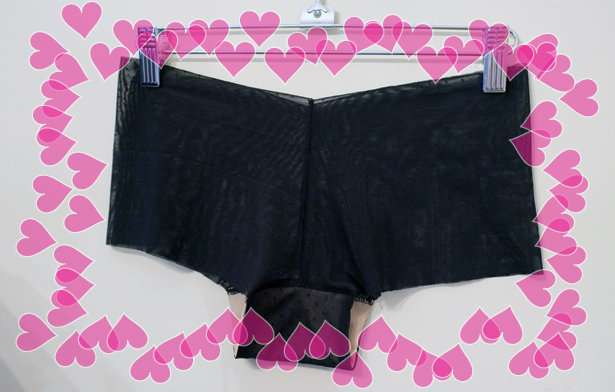 ShareThis
Valentine's Day is just around the corner so now is the perfect time to start sewing your own lingerie! Don't be intimidated, sewing lingerie and undergarments is sew easy and a perfect way to use up those scrap bits of fabric. Check out this step-by-step tutorial where I show you how to cut and sew this free member underwear pattern. The pattern offers multiple sizes and fits great! Want to dominate more lingerie? Be sure to get our limited time Lingerie Kit.
You can download this pattern for free here. This pattern has three pattern pieces for each size, but I only used two, I omitted the lining and instead but my lining out of the crotch piece.
Also, the pattern pieces had their matching notches outside the pattern lines so I marked matching seams by color so I knew which pieces went together where.
For my fabric I used a stretch mesh with a cute polka dot pattern! Stretch fabric of any kind would work with this pattern, my next pair is definitely going to be lace. Cut the main piece twice out of your fabric, and the crotch piece once (on the fold) of both main fabric and lining.
The first thing I did was sew the the crotch pieces together. I laid them right sides together and serged together the linear seams, and then flipped right side out.
Next, I sewed the front and back crotch seams. Then I sewed my crotch piece (two layers) to the crotch seams on my panty. I matched up the front and back crotch seams with the middle of the crotch pieces. I serged them right sides together leaving long tread tails.
I wrapped my long serged thread tails over my seam and stitched in place to make it secure. Then I zig zagged my crotch seam flat towards the panty. I did this both for decorative and practical reasons.
I left the top and leg hole edges of my panty all unfinished because I wanted the mesh to lay flat (this means no panty lines!).
Since making these pair, I have made many others in various spandex prints and meshs. They are super cute and comfy, and only take around 30 min to make. Imagine all the money you'll save if you made all your own underwear!
If this project was a breeze, and you want more variety in your lingerie drawer be sure to get our Lingerie Kit in time! You have until the end of January to snatch this best-selling kit of the month! You can also read more about its contents here.
Happy sewing!
Meg