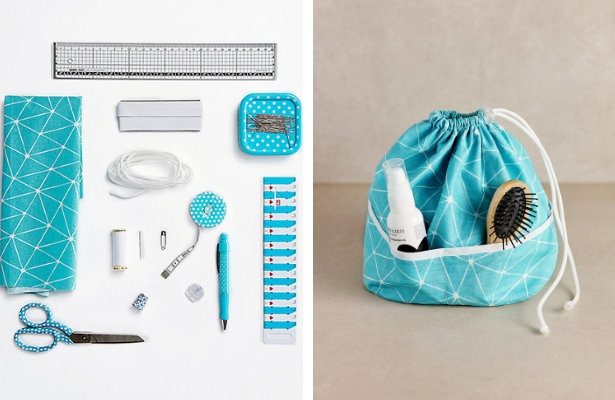 ShareThis
CARRY ALL – This cosmetics bag will serve you well at home and when you travel. The fabric can be wiped clean, so it's practical as well as pretty. Sew one for yourself!
Materials:
+ Laminated cotton fabric
+ Bias tape
+ Paracord
+ Thread
+ Cord stopper
+ Scissors
+ Chalk pencil
+ Thimble
+ Ruler
+ Tape measure
+ Straight pins
+ Needle
+ Safety pin
+ Quilter's ruler
+ Pattern template (download here for FREE)

Step 1: Pattern pieces (all include SA): base (printed template); side: 59 × 42 cm (23¼" x 16½"), pockets: 59 × 8 cm (23¼" x 3¼")
Step 2: From fabric, cut 2 base pieces (attention: pattern piece includes seam allowances), 1 side piece, and 1 pocket piece. On base pieces, clip 2 mm (a scant 1/8") at each of the 4 notches.



Step 3: Fold bias tape lengthwise so that one edge extends by 1 mm (a scant 1/16").
Step 4: Lay over upper edge of pocket piece, pin in place, then edgestitch in place.



Step 5: Fold pocket piece in half, matching narrow edges, right side facing in. Stitch side seam with 1 cm (3/8") wide seam allowance. Press seam open.
Step 6: Stitch side seam of side piece as described for pocket piece, but leave 1 cm (3/8") open in centre of seam (for casing) and leave approx. 7 cm (2¾") open, for turning.



Step 7: Pin pocket piece to outer lower edge of side piece, matching side seams. Stitch across pocket piece to create outer pockets, spacing lines of stitching as desired.
Step 8: Stitch approx. 1 cm (3/8") from both sides of casing opening, each approx. 1 cm (3/8") long. Tie-off ends of stitching with backstitches.



Step 9: Divide each open edge of side piece into 1/4's. Mark with straight pins.
Step 10: Pin each base piece to side piece, right sides facing, matching notches of base to pins. Stitch with 1 cm (3/8") wide SA.



Step 11: Turn the bag right side out, through the 7 cm (2¾") opening. Sew the seam opening closed by hand.
Step 12: Fold one half of bag to the inside and press fold (near the 1 cm (3/8") casing opening. Topstitch approx. 0.7 cm (¼") from upper edge.



Step 13: Finally, run the cord through the upper edge, using a safety pin as bodkin.
Step 14: Attach the cord stopper and knot each end of the cord.



FINISHED! Makes a fabulous gift to make for the upcoming holiday season too.