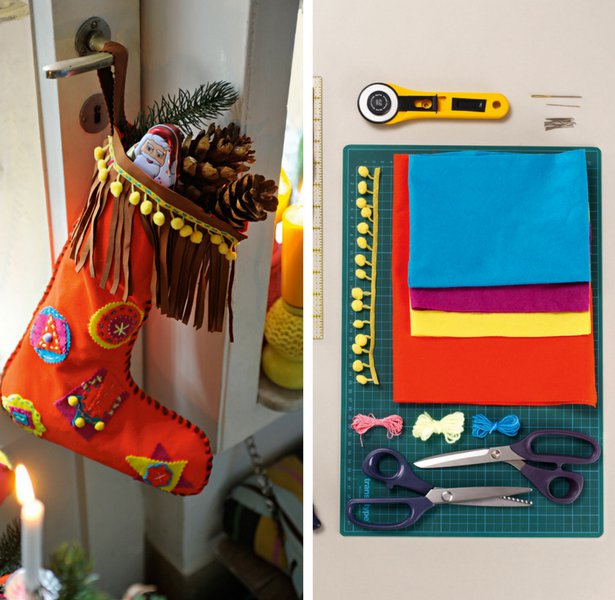 ShareThis
With this handmade Christmas stocking, Santa Claus will definitely leave something beautiful in there! You can also make these as gift stockings to give to your friends and family. Baked cookies? Sewed a holiday project? Bringing a bottle of wine? Place it in a DIY stocking that they'll love! Read on to see how to make these that resemble Santa's boots…

+ Felt in red, turquoise, pink, and yellow
+ Pom pom trim
+ A piece of leather
+ Pinking shears
+ Scissors
+ Ruler
+ Paper and pencil
+ Pins
+ Cutting mat and rotary cutter
+ Embroidery needle without lace
+ Embroidery needle with lace
+ Punch pliers



Make the paper pattern. Draw a stocking your desired size by hand on paper. Include a seam allowance of 1 cm. Lay the felt with two layers, place the cut paper pattern piece, pin and cut out.



From the leather cut a few long, about 0.5 cm wide strips (as sewing tape for the side seams) with the rotary cutter, put aside. Cut the rest to the desired width and circumference of the stocking. Use the rotary cutter to cut the fringes.



Halve the piece of leather with fringes. Put the leather fringe on each of the upper stocking edges, with the pom pom trim over it, pinning both. Sew on with contrasting wool yarn by hand. Use the embroidery needle with the tip.



Place both trimmed stocking pieces, right sides together and punch holes through both layers of felt along the side edges using the punch pliers. Sew parts together with the leather strips (see step 2) with an overcast stitch.



Use the pinking scissors to cut out ornaments from the felt residue. Sew together with colorful yarn to decorate and then sew on the stocking. Cut a strip of leather or felt for a loop, sew on top.



The stocking can now be filled with all sorts of goodies and hung on the mantel with care.