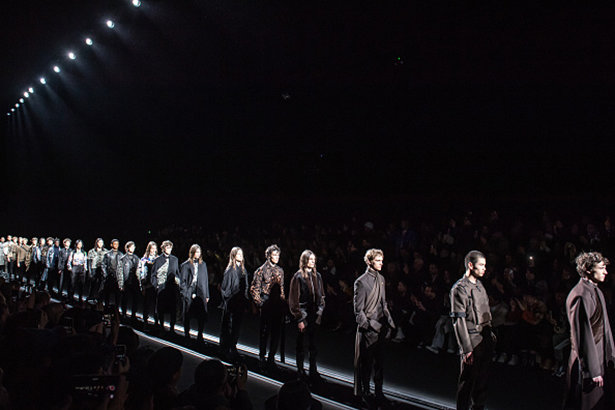 ShareThis
We usually talk all about women's fashion trends, but what about the guys? On our latest episode of Sew & Tell: Sew Romantic we discuss sewing menswear, and to compliment that episode I wanted recap the hottest trends seen on the runways for Men's Fashion Week including looks form Paris, London, and New York and how you can sew the look! Overall the major trends are a lot of prints, color and graphics mixed with boxy oversized silhouettes – then on the other end of the spectrum oversized silhouettes are more flowy as seen in tops, blouses, and the come back of the baggy pant.

Left: Photo by Peter White/Getty Images; Right: Photo by Estrop/Getty Images

You can never have too many pockets! Designers like Junya Watanabe and Dsquared2 embraced this trend of being able to leave the house with all your items having a place. Pocket are back in a big way with the pocket pouches getting bigger and bigger which is a nod to the 90s' Helmut Lang aesthetic. Finally men can carry their own stuff and not ask for valuable real estate in our purses.



Left: Men's Safari Jacket; Right: Men's Cargo Pants

To sew this trend you can go the jacket or pant route – so yes that means that cargo pants are totally cool again! If you want to invest your time and fabric in something a little more versatile with longevity then I suggest sewing up a safari style jacket or even vest.



Left: Photo by Victor VIRGILE/Gamma-Rapho via Getty Images; Right: Photo by Kristy Sparow/Getty Images

Designers like MSGM and Kenzo pictured above are bringing back the classic Hawaiian shirt, but say goodbye to the fitted ones. This trend is all about that retro boxy cut that have 80s'' vibes written all over them!



Left: Men's Hawaiian Shirt; Right: Men's Linen Shirt

Sew this trend with a nice brightly printed crisp cotton and perhaps go up a size or two…



Left: Photo by Victor VIRGILE/Gamma-Rapho via Getty Images; Right: Photo by Victor VIRGILE/Gamma-Rapho via Getty Images

The designers featured above are Alexander McQueen and Dior – I mean you can't get any more couture than that! But just as in women's fashions, couture garments are special and these menswear ones bring the craft of couture to the forefront. Think luxuries fabric, prints, and extra special details.



Left: Men's Velvet Jacket; Right: Men's Blazer

To recreate this trend spend some $$ on your fabric, opt for a velvet, get some trim, or indulge in a fun print.



Left: Photo by Stefania D'Alessandro/WireImage; Right: Photo by Kristy Sparow/Getty Images

Even though Valentine's Day was a couple of days ago, I'm totally still feeling the love with this trend! Designers like Giorgio Armani and Ann Demeulemeester got a little romantic with their flowy silhouettes and timeless styles with a nod to historic fashions.



Left: Men's Waistcoat; Right: Men's Rustic Worker's Shirt

If you're not ready for full on flowy yet, the waistcoat is a nice over piece to set the right aesthetic, and bonus points for a turtleneck! But if you're feeling the summer heat, then a loose-silhouette sewn in linen will let the breeze keep you feeling and looking cool.