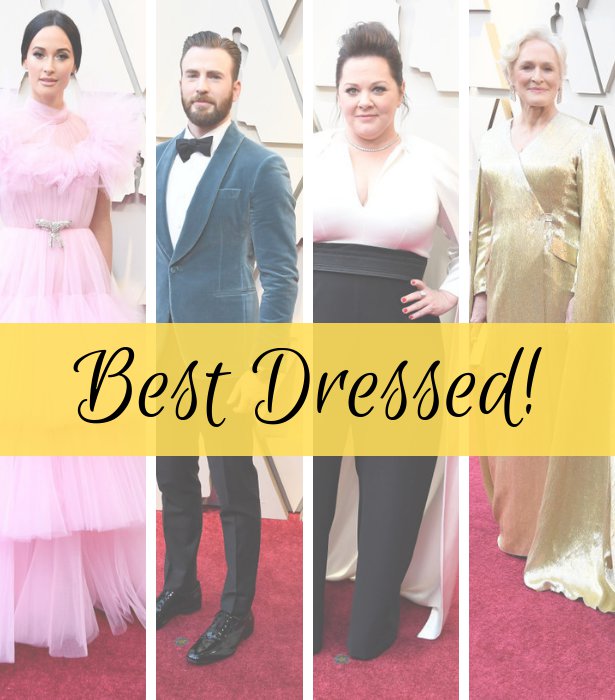 ShareThis
The 91st Academy Awards were last night, and you bet I tuned in to see what all the stars were wearing. The overall theme of the evening was a lot, and I mean a lot of pink – and I loved it! Read on to see my best dressed and how you can sew the looks…

left: Kacey Musgraves (Photo by Steve Granitz/WireImage); right: Linda Cardellini (Photo by Steve Granitz/WireImage)

These dresses I found online that people either loved or hated them… I absolutely loved them! Go big or go home, they took fashion risks and I think it really paid off.



left: Gemma Chan (Photo by Steve Granitz/WireImage); right: Angela Bassett (Photo by Steve Granitz/WireImage)

There were multiple hues of pink seen on the red carpet and I loved this vibrant take on it. They both brought volume to the forefront, and I think they both looked stunning.



left: Helen Mirren (Photo by Steve Granitz/WireImage); right: Sarah Paulson (Photo by Steve Granitz/WireImage)

Helen's dress changed pinks as she twirled the carpet, and it was mesmerizing to see. Then Sarah took a fashion risk with her cropped top version with waist ties – but those pockets were really the highlight.



left: Maya Rudolph (Photo by Steve Granitz/WireImage)

It is always nice to see some prints on the red carpet, and I though Maya looked great and comfortable – I was just sad to only see her as the opening presenter with Amy and Tina. Was hoping for more of their hilarity throughout the show. Anyway, you can sew her bold look using our Maxi Dress with Cutouts that also utilized a summery pink print.



top left: Dress with Flounces; top right: Tiered Off the Shoulder Dress; bottom left: Tiered Maxi Dress; bottom right: Ruffle Dress

Recreate the drama and volume that we saw on the stars who wore a lot of tiers and ruffles!



left: Skirted Dress with Cut Out Bustline; middle: Marilyn Halter Dress; right: Knotted Midi Dress

Sew up your next dress project in magenta pink like these patterns.



left: Glenn Close (Photo by Steve Granitz/WireImage); middle: Michelle Yeoh (Photo by Steve Granitz/WireImage); right: Danai Gurira (Photo by Frazer Harrison/Getty Images)

These stars were looking Oscar gold! Metallics are still a staple on the red carpet, and I thought all these looks really shined.



left: Long Sleeve Wrap Dress; middle: Vintage Jerry Dress; right: Metallic Dress

Grab some lamé to add that glitter to your next glamour project. These patterns work great in metallic that will have you feeling like a star.



left: Melissa McCarthy (Photo by Steve Granitz/WireImage)

Melissa McCarthy was by far my BEST DRESSED of the entire evening – this cape jumpsuit was everything and she absolutely owned it on the red carpet. Then of course when she graced the stage with bunnies all over her dress I was just so on board. You can recreate her iconic look by sewing up this Plus Size Evening Jumpsuit. Then all your have to do is draft and add a cape!



left: Awkwafina (Photo by Jeff Kravitz/FilmMagic)

There were multiple suits worn by celebs last night by both men and women, but my favroite was Crazy Rich Asian's Awkwafina. She rocked this amazing blush metallic suit complete with neck bow – and I was in love with her entire look. Sew the look with this Plus Size Suit Jacket and matching pants.



left: Chris Evans (Photo by Steve Granitz/WireImage); right: Jason Momoa and Lisa Bonet (Photo by Steve Granitz/WireImage)

We can't forget about the men! Velvet blazer were spotted on Chris Evans and Jason Momoa who both totally pulled it off.



What was also highly talked about was Jason's scrunchies! I'm all for matching scrunchies for every outfit as the 80s' is my favorite fashion decade – and you make them yourself easily just follow this DIY!



left: Men's Western Jacket; right: Men's Jacket

Sew this menswear look with either of these above blazer patterns to have your man looking dapper.
Who was your best dressed of the evening?