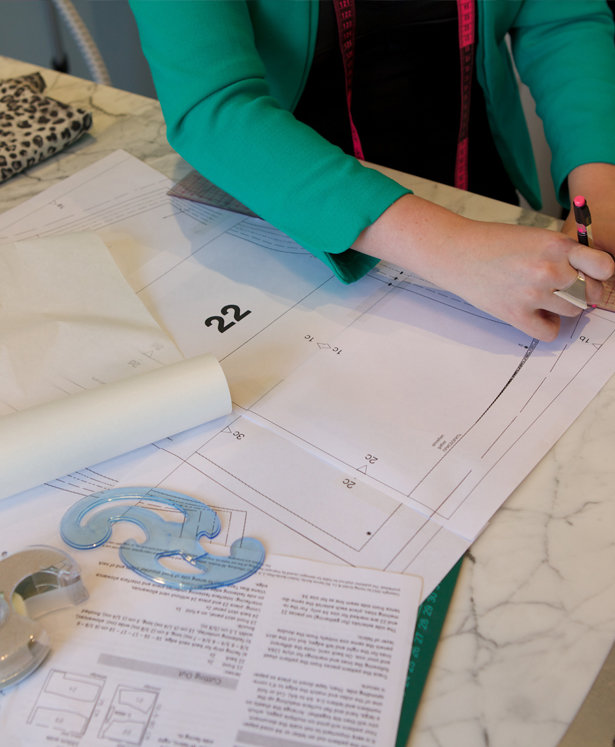 ShareThis
In Thursday's Web Seminar, Master techniques that will create perfect, RTW-looking shirts! Sign up now!
Let's just admit it; sewing a perfectly tailored shirt is hard work. If you have ever tried making a dress shirt, you know what I am talking about. Whether you have attempted to sew a shirt or only dreamed of stitching up yards of beautiful cotton fabrics, take heart. With the right tools, fabrics, and techniques, shirt-making is definitely within your reach. Yes, you might have to practice a little, but you can do it. For example, setting a sleeve nicely into a shirt armhole can seem like a bit of a mystery, can't it? Sometimes it works out, and other times you struggle and struggle, and despite your best efforts, the armhole seam never ends up looking just right. The sleeve plackets are another tricky area that many sewists have trouble with.
And how about those cuffs? Do they look as crisp and professional as your favorite high-end, RTW shirts? If your goal is to overcome wrinkly sleeve seams, irregular topstitching, uneven sleeve plackets, and less-than-perfect cuffs, then this web seminar is designed with you in mind. All you need is to learn a few tricks that will help you over these common trouble spots. Shirt-making is not really complicated at all—but it does require precision and accuracy. The great news is that those are things that can be learned! And once you have mastered a few simple tricks to ease you over the trouble spots, your shirts will immediately have that "made by a pro" appearance.
Start by making sure you are using the right fabric and interfacing. Next, learn how simple templates can help you to consistently produce high-quality results for your shirts–but the same concept can be applied to other garments as well! Using the right foot for your sewing machine will make the process easier and faster, and by changing the seam allowances your stitching will also have a more professional appearance. Shirt-making is not hard; it is a set of little pro tips and tricks that practiced consistently will give you the results you are looking for! Maris has been making shirts for her DH and DS for years, and this web seminar will save you loads of time (and trial and error!) by helping to perfect your own shirt-making process.
What You'll Learn:



What is a Sloper


How to determine your size and grade and up and down sizes


What fabrics are best to use with this sloper and how to make pattern changes to accommodate certain fabrics


How to turn this basic sloper into a variety of wardrobe essentials through flat pattern making


What sewing techniques are best used to sew and finish off these types of garments


Use the sloper to draft all your wardrobe basics like knit T-shirt, long sleeve top, skirt, dress, and tank!
Who Should Attend:



Sewers wanting to learn more about pattern making


Sewers looking to learn how to best utilize sloper patterns


Sewers that are comfortable using pattern drafting tools


Sewers that want to learn about designing and drafting with patterns for knit fabrics
Difficulty Level:



This web seminar is intended for advanced beginner sewists and advanced sewistss alike. It will demonstrate a fool-proof method of felled shoulder seam construction that all levels of sewists will benefit from. After learning a few tricks and tips to simplify sleeve plackets and shirt cuffs, sewists can easily transfer these methods to any shirt or shirt-style garment. And with practice implementing the methods and tips learned in this web seminar, sewists will be able to streamline and speed-up their shirt-making construction process.
Click Here to register for Thursday's live web seminar at 11:00am EST and Learn a unique felling method that simplifies a shirt shoulder seam!
Have a question about a specific technique? There will be a Q&A session at the end of the web seminar where you can ask Maris any questions you have, and no question goes unanswered!
Can't attend the live web seminar? Everyone who registers will receive a recording of the event in a thank-you email that goes out on the Monday after the live event, along any downloads or resources referenced during the web seminar, and will have the ability to ask any follow-up questions via email.
A little about the instructor: Maris Olsen

What's your sewing secret weapon?
Try.Test.Repeat. I make samples, try new products, vary my machine settings, work with all kinds of fibers. I am a "process" sewist, and love figuring out better, slicker, faster ways to do things so my garments look professional and my techniques are predictable and repeatable.
What is a typical day like for you?
Up early with a large double latte and my computer. I read a few sewing blogs, answer email, and chat online with sewing friends in other cities. I usually have a few private sewing students each day, and manage to squeeze in some blog-writing, photographing, and if I am lucky, some sewing before dinner and the occasional evening student.
How did you make sewing a full time job?
It was the classic case of one door closing, and another opening. I worked in the computer software industry my entire adult life, and quit to take a part-time job with a vendor company who provided contract services to Microsoft and other companies in the PNW. My half-time job was supposed to turn into a full-time job at the end of a year, but instead my position was eliminated! So, I decided to start the sewing business I had always wanted. I built a web site, started blogging, and hung out my "sewing educator" shingle. It took about 1 year for my business to really take off, but I am busier and happier than I ever dreamed possible.
Hope to see you all there!