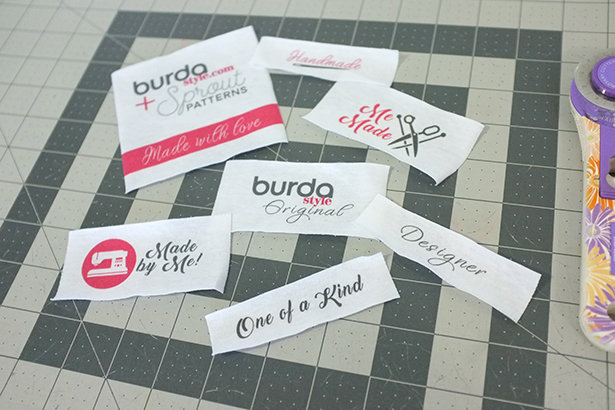 ShareThis
In addition to our new collaboration with Sprout patterns we also developed a line of fabric prints on Spoonflower! And one of our favorite new designs are these garment tags that you can sew into the back of all your handmade projects.
You can have them printed on any type of fabric that you like, but we think that the twill and cotton knit ultra are the best way to go. Purchase here!

If you purchase in the twill or any other non-knit fabric you'll need to finish the edges of the tag so they don't fray inside. Here I have used pinking shears to cut around the edges of my tag.



Then pin inside your garment where you want the tag to be.



Use your machine to topstitch around all the edges of the tag, pivoting at the corners. If you don't want stitches visible on the outside of your garment you can pre-stitch the tag to just the lining of your garment before sewing the lining into your garment!



Finished!



I sewed the classic BurdaStyle tag into the dress I made for our new course Introduction to Garment Sewing – Dresses and Tops 101 where I show how to construct our 60s Shift Dress. This dress pattern is so great, as it is easy to sew (no zipper!), and has pockets! It is also super comfy to wear since it has a looser fitting silhouette.



You can also press in the edges of the tag and stitch to your garment. This is the knit fabric and since it won't fray, I only pressed in the side edges. If you got a woven version you would need to press in all 4 edges.



On this dress the collar folds over the back so I flipped it up and pinned the side edges of my tag to the facing.



Then just a few topstitches on either side along the pressed edge did it!



My designer dress tag! Get yours here.



I sewed this tag into my Peter Pan Collar Dress that I sewed in preparation for our Certification Course.



If you don't want any visible stitches on the outside of your garment you can always hand stitch to any facing inside your garment!



I hand stitched the One of a Kind tag into my Power Dress variation. I made this dress last year to wear to the sewing expos I went to. I LOVE this dress, it was a perfect fit and again… the pockets.



When ordering these garment tags make sure you select the Test Swatch!