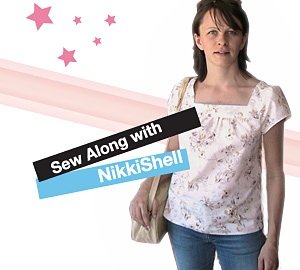 ShareThis
In other BurdaStyle news I'm starting a Sew Along! I already posted a thread in the forum, click here.
We'll share hints and tips, ask questions and help each other out. Then at the end we'll post our creations and marvel at everyone's talent and how different the same garment can look just by a change of fabric or a pattern alteration then give each other a virtual pat on the back.
I think we'll start the Sew Along with the choice of any of the tops from the Burda Style pattern database. The choice to be left up to you. I'm leaning towards Susan or Maddy, since they're the only two I haven't tried yet.
Maybe you could use some fabric that you have sitting in your stash or find something at the thrift store to recycle. You could then spice your top up like I mentioned in my last column. Experiment!
NikkiShell meant to post the first pattern on Monday 23 July, but because of the new site design launch, this had to be postponed. Tomorrow we should know!
Every four weeks a new pattern choice will be announced, after starting a week before that to collect ideas from the Sew Along members! For each project, there will be a new thread in the forum category "Sew Along".