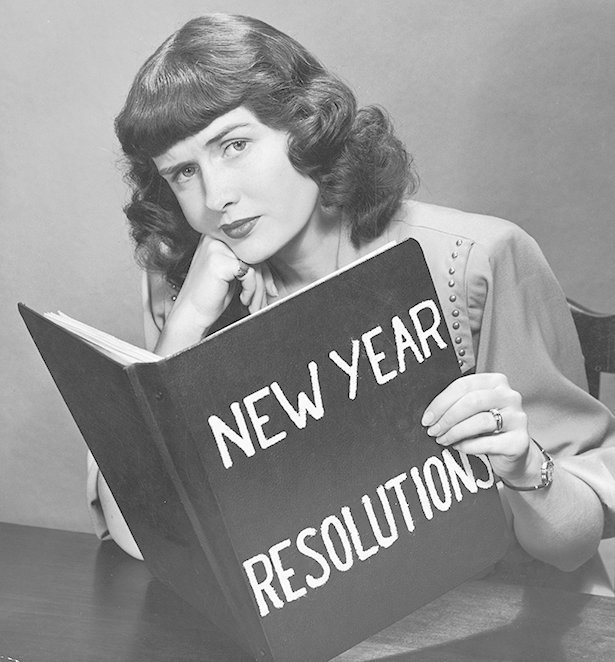 ShareThis
It is that time of year where everyone is making, following, or forgetting their New Year's resolutions. I have been following my non-sewing one so far and have made it to several dance classes at the gym and loving it! I also made seven sewing resolutions I hope to achieve in 2017, read on to see what they are…
image via Getty Images
All last year I wanted to make myself a bra but never got around to it, but not this year! I want to make a full bra with underwires, adjustable straps and everything. With Valentine's Day just around the corner perhaps I'll start with this project. I'm going to get help with this from our Bra Kit where you learn how to both draft and sew a bra. I love the look and feel of a pretty and lacey soft cup bra.
Last year I really started to work more and sew with faux fur, and this year I want to make a full on faux fur coat to keep all of me woarm. I recently made fur slippers, a throw, a bunch of scarves out of faux fur so now I need a coat to match! Shannon Fabrics has been amazing at sending me all the faux fur I'll ever need and was just sent a bunch of this Canadian husky amber fur& that is scream to be made into this Faux Fur Coat pattern from 01/2016.
I usually keep all my ideas in a book or in my head and it is easy to forget about them when they are tucked away. I have an open wall in my sewing studio and I want to install a large cork board to display all my ideas, sketches, fabric swatches, and inspirational images. I feel like if it is always right in front of me it will inspire me to sew more and be more creative. Another resolution would be for myself to use a drill and actually put it up myself ekk!
When I first moved and set up my brand new sewing studio it was so organized and tidy. Now… not so much. I would love to overhaul it and re-organize it to what it once was and take my fabric stash inventory to see what I can make from it.
I first started my Meg's Magazine Mash Ups in 2013 with the premise to sew one pattern every month from the each current issue of BurdaStyle magazine. Over the years it seems like it has taken on a life of its own and I steered away a bit from using new patterns and it was open to all back issue patterns. in 2017 I want to bring back the monthly current issue patterns for my Mash Ups!
Sometimes I get in a fabric store rut and always go back to the same shop to purchase my fabric. This year I want to explore the fashion district more in my city and go into new sewing shop where I can buy fabric and notions. I'm also doing a ton of travelling this year, going to all the Original Sewing & Quilt Expos so I hope to hit up some fabric shops in each city.
Last but not least I want to sew more for my man! He helps me out so much by photographing all my projects so I want to give back and make him more garments. I also really like sewing menswear, last year I did this men's shirt sew along. So here is to more menswear sewing in 2017, and because my own personal closet is getting to full.
What are some of your 2017 sewing resolutions?
Happy New Year!
Meg