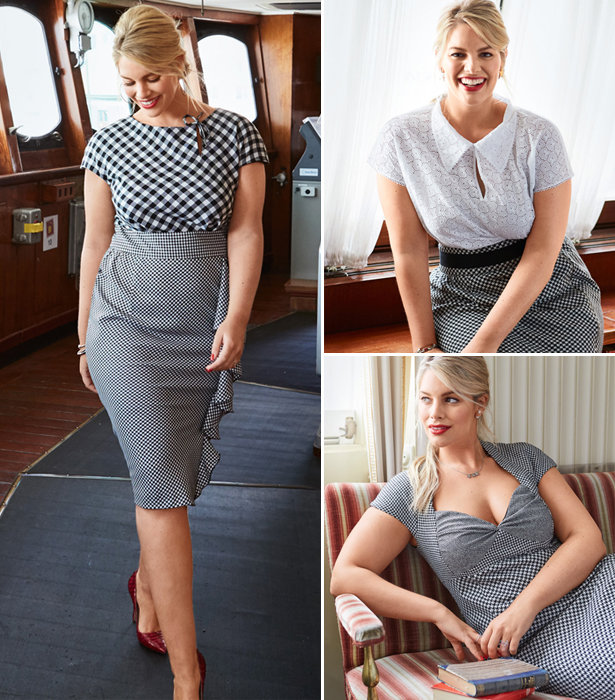 ShareThis
Confident, sexy and beautiful encompass this stunning collection from the September 2016 issue of BurdaStyle. Icons like Sophia Loren and Marilyn Monroe have embraced the power of the perfect look and it takes a few details to master including a sexy decolleté, hot '50s cuts, and some playful lace and plaid fabrics in white, black and red.
Click on the pattern image to go to the pattern store page…
Stay protected from the chilly air while also keeping the elegant edge when wearing this relaxed-fit coat sewn with a patterned jacquard. A sophisticated glossy faux fur decorates the hood, the sleeve turn-ups and the patch pockets. In order to let the flow of the fabric remain open, the coat comes together with hidden snaps sewn-on along the front.
This long pea coat coat can be used in the transition days of autumn for its practical purpose, and then also be stylish and chic is made possible with this widely swinging style. Fashionable details include the asymmetric collar, faux button-up look – because it closes with snaps from the inside – and has a tab in back.
This ladylike style is reminiscent of a '50s tea dress – with a cool makeover in a dazzling red buffalo plaid. The cut features a Peter Pan collar and dropped shoulders. The darts are cleverly constructed so that they aren't closed, rather they are incorporated into the inverted pleats.
A high-neck blouse can also have a fiery look as you can see here with the embroidered batiste. It comes together with a button in back. The extra touches: A pointed Peter Pan collar and cut-on sleeves edged with an extra-delicate bobbin lace.
A perfect fit. This dress is made to have the effect of a two-piece with its elaborate details. The look begins at the top with a modest bodice and draws toward a stunningly sensuous skirt with a wide band at the waist, a playful flounce and a walking slit.
This skirt lets you decide how much leg you would like to show! The zipper along the front left can adjust up or down according to your personal preference.
This skirt is pure femininity with its slightly flared lower hem and wide shaping waistband that gets an extra petersham accent. We would say it simply is a must-have for every wardrobe! The side slit can be regulated to your liking due to the metal zipper.
The top is shaped to have the look of a bolero resulting from the interplay between the sleeves and the bodice of this knee-length and figure-shaping dress sewn with various weave patterns of hounds-tooth fabrics.
The twisted bustier bodice dress beautifully showcases the decolleté and features a halterneck and gathering at the side seam that gives a flattering fit. This sexy dress lets every woman feel like an Italian film star. The hem ends barely under the knee for a perfect accent on beautiful legs.
HappySewing!