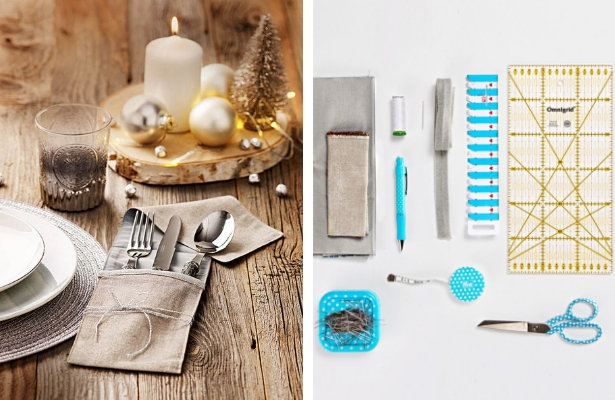 ShareThis
These flatware pockets add a glamorous touch to your holiday table – and it keeps everything together! You could even go one step further and embroider on them with everyone's initials so everyone knows where to sit. Read on to see how easy these are to make…
All images: © Jan Schmiedet

+ Outer fabric, with metallic-look
+ Inner fabric in mint green
+ Bias tape
+ thread
+ Straight pins
+ Needle
+ Scissors
+ Tape measure
+ Ruler
+ Chalk pencil,
+ Quilter's ruler
+ Pattern piece (see below for drafting measurements)



Step 1: Use pattern piece to cut 1 piece from each fabric, adding 1 cm wide seam allowances to upper and side edges. Do not add seam allowance to lower edge.
Step 2: Lay the fabric pieces together, right sides facing. Stitch together along side and upper edges, with 1 cm wide allowances. On both upper corners, trim allowances diagonally.



Step 3: Turn right side out. Pin bias tape over open lower edge, turning ends of bias tape under.
Step 4: Edgestitch bias tape in place, tying off ends of thread securely.



Step 5: Fold lower section up as marked (18 cm) and pin in place.
Step 6: Topstitch close to all edges of the pocket, thereby closing the side edges.



FINISHED! Use up all your scraps to make a bunch of these in holiday fabrics.
Now need something to go in the center of your table? Click the image below to see how to create decorative festive balls:



Happy Holiday DIYing!