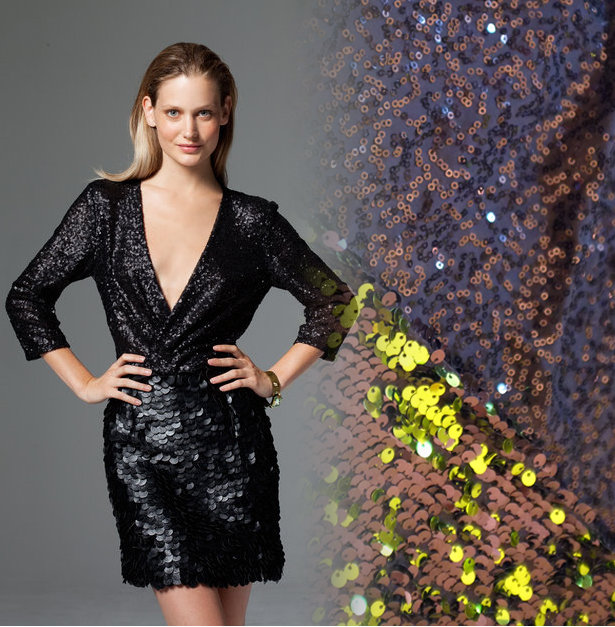 ShareThis
There is no question that I love sequins! I love how shiny they are, and how catch they catch the light when you walk into a room. Wearing sequins is fabulous…but sewing them is a whole different story. I'll show you some techniques I use when sewing with sequins as well as share our top selling sequin patterns and inspiring member projects sewn with sequins.
There are different types of sequin fabrics for which care requirements can vary greatly. The sequins may be embroidered, glued or printed on the fabric.
The fabric backing may also vary, e.g. delicate organza, chiffon or stretch jersey. Whatever type of sequin fabric you have chosen, please remember the following:
■ Use a fine needle and sewing thread for basting – do not use heavy basting thread. Also use a fine sewing machine needle (size 70) with a perfect point. Buy extra needles! Even when using the correct needle, a few are bound to break along the way.
■ Should sequins come off or break, sew on individual sequins to replace them. Use the same sewing thread as used for the other sequins or use "invisible" nylon thread.
■ Press the fabric carefully. Too hot an iron may melt the sequins or discolor them. Use moderate heat (rayon setting, 1 dot) and press only from the wrong side under a dry pressing cloth. Test-iron a scrap of your fabric first.
■ Sew SLOWLY.
Sometimes when I am working with a large and or hard type of sequin I use my snips to cut away all the sequins from my seam allowance so I am not sewing through any sequins.
When my sequins are on a stretch fabric I always sew with a zig-zag stitch, and NEVER use a serger.
The best way to finish sequin fabrics is with lining so the sequins don't scratch you from the inside. I simply fold in my hem edges and zig-zag into place. Then I hand baste lining into place, or bias binding just over the sharp edges.
These are some lovely member projects made from sequin fabrics! AnitaS7 made her black sequin party dress is made from our Tank Dress pattern, and I love how she belted it. Member toupinette just added a touch of sequin to her dress using our popular Jersey Top pattern. I love how she made the top into a dress, and replaced the leather shoulder panel with sequins. In HeidiN's pale pink top she used a cool burnt out sequin fabric. The silhouette of the top is great and well suits the fabric.
Here are our two top selling sewing patterns featuring sequins! I love them both, and they are from the same Edgy Glamour collection. The Stretch Sequin Dress combines two different stretch sequins, and I think would make the perfect NYE dress! The more transitional Sequined Tank is sewn from woven sequins and has a nice forgiving drape to it. This is the perfect tank to wear under a blazer this time of year.
Last summer I went to my cousin's wedding in Ireland, and I made my own sequin dress (pictured above with my brother in a luscious Ireland garden)! I used our Sheath Dress pattern, and just eliminated the darts and cut in this green sequin fabric that I purchased at Spandex House (my favorite). There is just something about sequins that make you feel like a million bucks! If you use the correct techniques, sewing them can be just as satisfying. Don't worry if you break a needle or two along the way, the end result is worth it.
Happy Sequin Sewing!
Meg