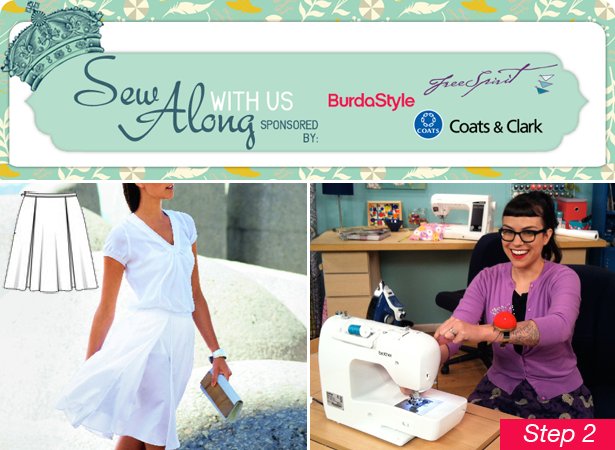 ShareThis
For the month of September we're hosting a Sew Along with our good friends at Coats & Clark, FreeSpirit Fabrics and Tula Pink. Each week we'll be posting steps for our Skirt with Front Pleats courtesy of Gretchen Hirsch! Click through for Gretchen's continued instructions for this classic project and make sure to stay tuned for more steps and info throughout September!
Hello and welcome back to the skirt sew-along! Let me begin with a confession: the striped fabric I was using was stressing me out, so I switched to a lovely yellow floral sateen for now. Maybe the stripes will be skirt number 2!
Free Spirit was nice enough to send me a variety of fabrics, thank goodness. And I would be remiss if I didn't mention the plethora of threads and zippers sent to me by our generous sponsor Coats & Clark!
Okay, so you have all your skirt pieces cut out, with seam allowances added, and pleat lines marked. Also, don't forget to snip into the notch on the side pieces; this shows you your zipper placement.
Ladies, this skirt takes 10 pieces—isn't that something? There are two skirt fronts, 4 skirt sides, and 4 pleat underlays. It's worth noting that they all look really similar, so it would be a good idea to write the pattern piece number on each in chalk. This will keep you clear as you start sewing them together.
Finishing Your Seam Allowances
I'll share a little time-saving trick with you: sometimes I like to finish my seam allowances before I sew my pieces together. Assuming that I don't need to trim them down, this saves me some hassle in the long run. So with this skirt, I started by finishing all the long edges of the skirt pieces. You don't need anything fancy for this beginner project; a simple wide zigzag will do. I like to zigzag right on the edge of the fabric so the thread kind of wraps around the raw edge.
Pressing Your Pleats
Now you're going to press your pleats on the skirt center and side pieces (that's pattern pieces 5 and 6). Start with the 2 center pieces. Fold each side of the skirt in to the wrong side on the pleat line and press.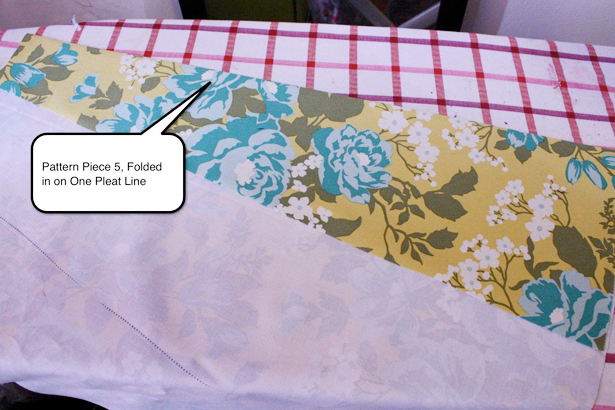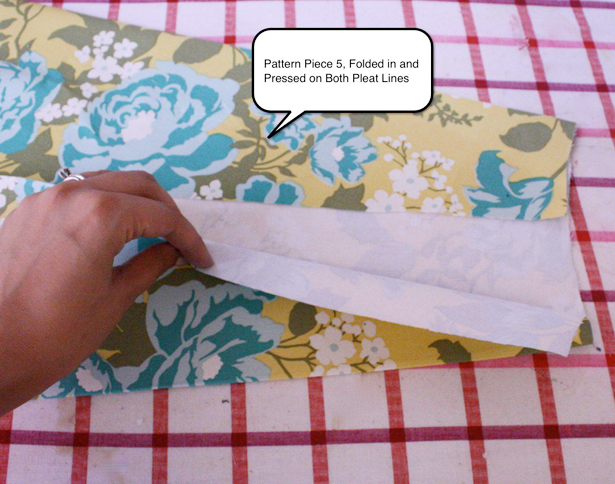 Now do the same with the 4 side pieces. Fold in on the pleat line (you'll be folding the side of the piece that's not notched) and press.
Sewing the Pleat Underlays
Now you can lay out your pairs of sides and centers together. I'll show you what I mean. First, place a skirt center right side down.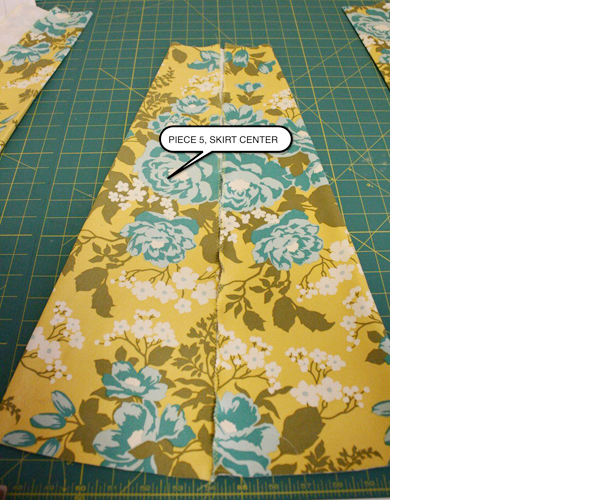 Then place a skirt side to either side of it.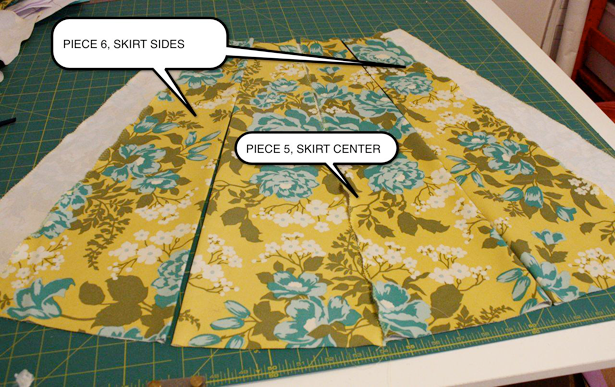 The notched sides will go on the outside. See how it's starting to form a skirt? This is either your front or your back skirt; it doesn't matter since they're the same.
Now, let's get out piece 7; that's the underlay.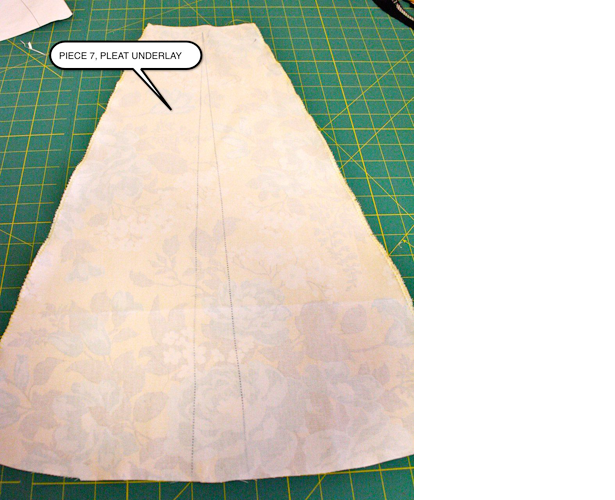 You're going to place piece 7 facedown on each of the pleats formed by pieces 5 and 6. You want to match up the raw edges and pin.
Sew these pieces together, leaving the bottom 4" open. This is to allow us to work on the hem later.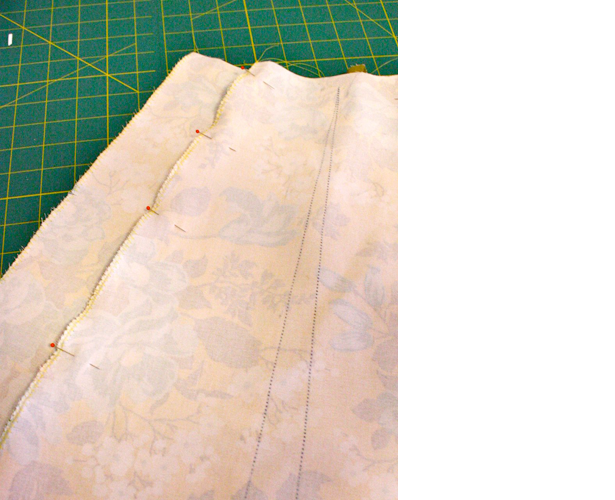 Repeat all this on the other pleat of the skirt front or back.
Baste the Pleats in Place
Now we're going to baste down the pleats at the waistline. Pin them in place first.
Then baste them down along the waistline, inside the seam allowance. (I basted mine at ½").
Hey, it really looks like a skirt!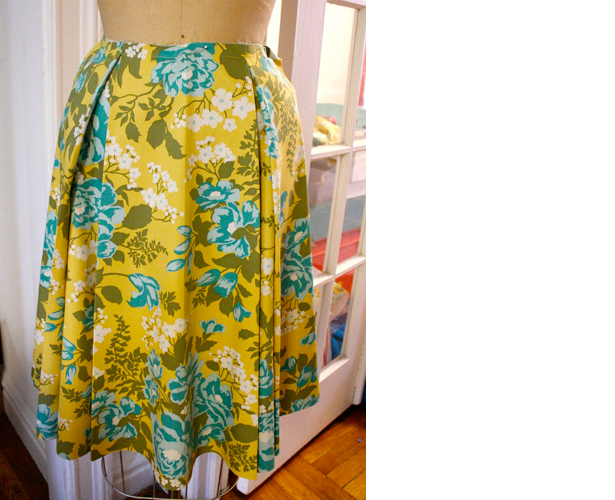 Now repeat this whole process for the other set of pieces, which will become your skirt back.
Baste the Right Side Seam and Do a Fitting
Your last task for today is to baste your right side seam together and then try the skirt on, pinning the left side in place at 5/8". How does your skirt fit? If you need to take it in or let it out, adjust both sides equally so the skirt is still symmetrical.
Okay, friends! That's it for today. Next time we're going to do the waistband and the zipper. In the mean time, let me know how your progress is going!
P.S. You didn't think I'd leave you without any cat pictures, did you? Henry says hi!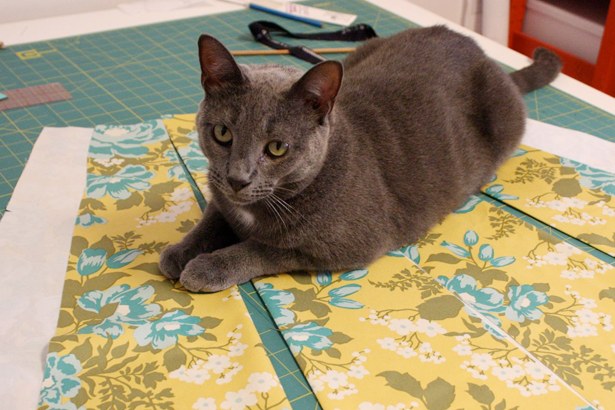 ~Gretchen