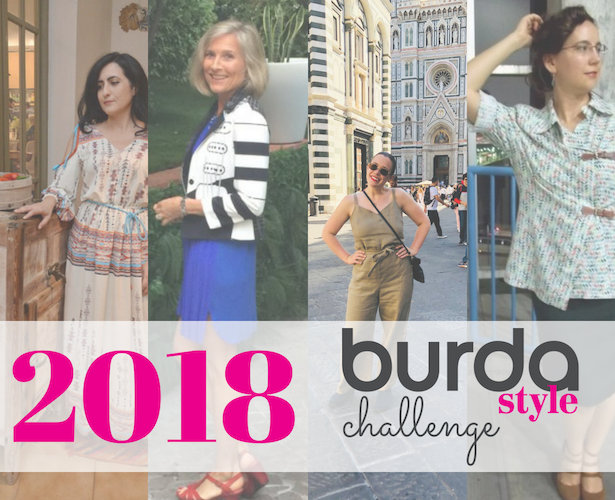 ShareThis
Better late then never! Here is the #burdachallenge2018 September round up post, and last month our members were busy sewing up everything from dresses to blouses and even bodysuits. I spent the early part of October in Europe on vacation, and I came back with a whole lot of sewing inspiration and can't wait to dive back into my studio. Read on to see what was made in National Sewing Month as well as my October plans…
Hila over at Saturday Night Stitch posted her "party in the back" dress made out of a fun colored cheetah print for her #burdachallenge2018.

Our members really utilized some amazing prints last month in their sewing projects!



Burda challenger SeamRacer sewed up this intricate Asymmetric Buckle Blouse which she made to wear to a recent Maroon 5 concert! Then on the right we have Ellen Hatteland in her Music Jacket – what a unique jacket, and love the theme.



I missed these amazing three projects that power member and Certified BurdaStyle Teacher Evmorales sewed up in August, and I especially love this one shoulder jumpsuit. In the middle she showed off her faux fur sewing skills with this Short Sleeve Jacket, and sewed up a dress with a nod to Meghan Markle in dark denim.



Elpida Kyriakou is dreaming of a loom and luckily she found this fabric for this blouse project, and on the right member Evmorales utilized a beautiful floral in her September project – this Fall Floral Shirt Dress.



She didn't stop there! Elpida Kyriakou made two more lovely outfits in September including her Finishing the Summer outfit and this dress she made for a wedding in Olympia.
On instagram there were also some more amazing projects shared using the #burdachallenge2018 tag:

Since I was away in Italy half of September I really didn't have much time to sew, so I enlisted the help of one of our amazing BurdaStyle Influencers to "takeover" my monthly Mash Up! In September, the amazing Sharadha sewed this floral pullover with full tutorial.
As I planned in last month's round up post I made a jumpsuit for my Italy travels! But after looking at the hot weather forecast for Italy, I opted to tweak the jumpsuit pattern slightly to have a tank top style. I used the bottom half of this linen jumpsuit and swapped the top kimono top and used this tank pattern as a guide and eliminated the waistline seam.



Since I got back in to October I have brought in another influencer to takeover my Mash Up again for October! Diane chose our Waterfall Blouse to put her own spin on, so stay tuned next week for her first tutorial post. I'll be back to regular Mash Up sewing in November.



But what I am going to work on in October is a new skirt! I have been wanting an easy to wear fall skirt to wear with tights and boots, and I have always loved this relaxed one. I have this burnt orange linen that I think would be perfect.
Are you all starting to sew and build your fall wardrobes?
Happy Sewing!