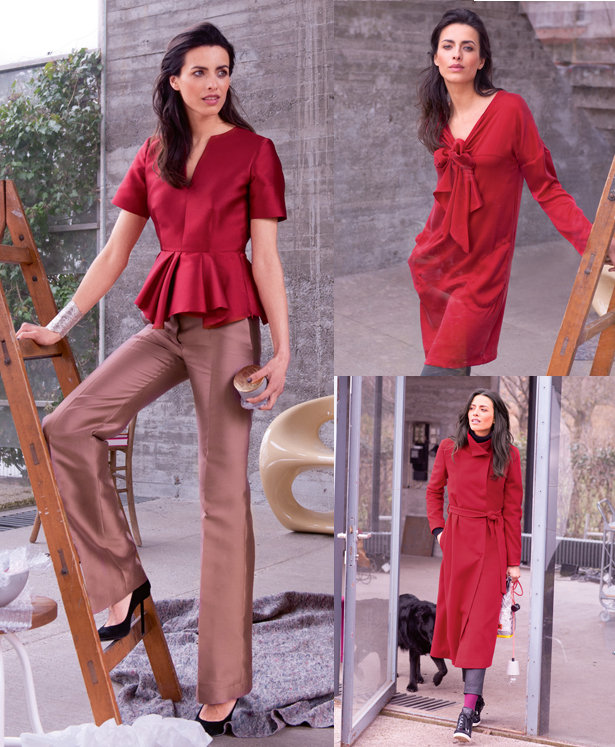 ShareThis
We're falling in love with the color of autumn leaves, holly berries, apples, and other fall goodies: RED! Get ready for our favorite fashion season with sleek slacks, romantic dresses, and coats to keep you warm from the August 2013 issue of Burda Style magazine.
Get a little folk style with the Lace-Up Dress. This romantic style has 3/4 sleeves and a low-cut V neckline tied with a bow for a look that's flirty and sweet at the same time. Dress is finished with an empire waist and high collar. Make it in luxurious silk velvet for a dress with beautiful drape, then head out for a picnic in the autumn leaves.
If the tomboy look is more your style, you'll love the Crewneck Sweater with zippered shoulders. This casual sweater is great for throwing on as an extra layer in the fall. Wear it with jeans, or throw it over a skirt and tank with boots. This thick sweater would be perfect for tailgating!
The Editorial Pants are a fall staple. These relaxed but professional pants have front pleats and front and back pockets, and are designed to be worn low-slung on the hips. Wear them with flats for a carefree look.
The Pleated Peplum Top has real architectural flair. The front pleat and peplum create lots of volume at the hip, which makes your waist look smaller and gives a nice hourglass silhouette. This top makes a statement with any outfit, from dark skinny jeans to business slacks. Use heavy silk fabric to give the pleats some body.
Make the chic Bootcut Pants in fabric with a little structure and sheen, like thick silk, and wear with pointy toe heels. This style is meant to slide down on the body during wear, but can be taken in at the waist for a closer fit.
Finish your outfit with the Long Sash Coat. This long belted style is perfect for minimalists, and the midi length and high collar keep you warm.
Keep it sweet and simple in the Bow Front Dress. A relaxed mini dress gets a little girlie style from an oversized tie wrapped in a bow, and feels luxurious in washed silk. This casual dress has pockets, so its perfect for every day or the office. The Bow Front Dress looks sweet paired with mary jane heels and colored tights.
Wear the Long Sleeve Blazer with skinny pants or slacks for a casual take on the power suit. Wide lapels have a slightly masculine look, so contrasting duchesse satin for a fun contrast.
This structured pleated dress is the kind of thing Duchess Kate Middleton might wear to a lunch meeting. Wear the classy Pleated V Neck Dress with pumps to look elegant and sophisticated. Use heavy silk fabric to give body to the pleats.
These nine patterns would look great at professional meetings, or any time you want to add a little polish to your look. Red is such a powerful color, and will give you an extra boost of confidence (especially in silk!).
Happy sewing!