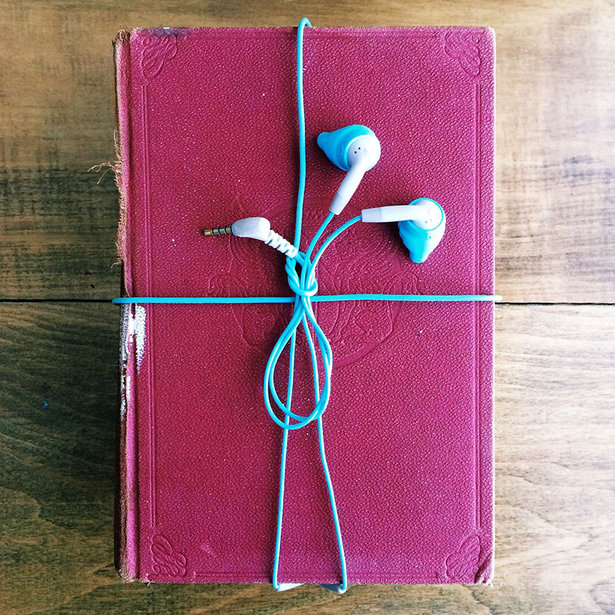 ShareThis
|Sponsored| Does the audiobook play a role in your sewing life? Over here at BurdaStyle we've dabbled in finding stories to complement our latest project. One of our team admits that as an audiobook convert, she is taking her sweet time getting through a 14-hour stitch and listen. Imagine how much sewing you could accomplish in that amount of time!
We are convinced that there is a Penguin Random House Audio selection for everyone out there, sewists included. Check out additional choices from Penguin Random House Audio along with the suggestions we have for you below. The storytelling experience of an audiobook might just make your stitching soar.
---
A Laughable Love Story
Meg Healy, Online Editor & Lead Educator

I'm always one to have something to listen to or watch while I sew – often it's a podcast or all my favorite daytime television shows. But an audio book was new to me to get lost in while I sew my next project, so I was excited to jump in, listen, and sew! Recently getting engaged myself, this seemed like the perfect book while I start to sketch, design, and sew my own wedding dress – probably the biggest sew project of my life… think I'll need several audiobooks to get me through that one. But The Greatest Love Story Ever Told was a superb selection and pulled me in right from the start.
Being a huge fan of Megan Mullally and Nick Offerman already, especially the two of them together, I knew I would get a kick out of this book. The story told with both voices made this audio book feel like they were sitting right with me in my sewing studio while I worked away telling me their story – I loved that, especially working often alone from home. But what really connected me to their story were the similarities that I drew from my own personal love story and rise in my career, and I think a lot of people can relate to them both coming from humble beginnings. They really dive into their lives chapter by chapter (hilariously titled in the book) starting from family life, past relationships, and how they got the itch to be in the entertainment business that brought them together in Los Angeles back in 2000.
The dynamic of Megan being 11 years older than Nick, and the self titled bread winner at the beginning of their relationship were brought to life in fun jokes throughout the audio book – although both very successful now and one surprise wedding later, they are a rare Hollywood relationship that I think will go the distance. They talk about their 2 week rule for traveling for solo work projects, and keeping their own hobbies. Nick being a carpenter, and Megan putting her sewing skills to work mending holes and buttons herself – they remain down to earth with a comedic take on love. My favorite quote from the book, and a testament to their long lasting relationship:
In the midst of our seemingly fancypants lifestyle, we have both retained the ability to whipstitch. – Nick Offerman
The Greatest Love Story Ever Told is exactly what it says it is – and after laughing my way through the entire audio book, I feel as though I can take away a lot of advice going into my own love story and starting my greatest project ever sewn, my wedding dress. I can only hope for a sequel to get me through.
Sample The Greatest Love Story Ever Told in the below player.
---
Sewing, Party of One
Amanda Carestio, Senior Editor/Content Producer

If you don't share it on Instagram, did you even make it?
That's a question buzzing around the online sewing community these days: our relationship with Instagram. If your audience is 42 or 40,000, you've probably considered a few questions: should I post every day? Should I post only finished projects? Will I lose followers if I post awesome pictures of my cat?
If these questions have your head swimming, An Audience of One: Reclaiming Creativity For Its Own Sake offers a nice and much-needed reset. Written by co-founder of The Unmistakable Creative podcast Srinivas Rao, An Audience of One is a must-read, must-listen for creatives on all levels, especially those of us who share online and who have little time to read. I must confess I'm new to listening to audiobooks while sewing, but it's a good solution for me: I don't have much time for reading these days (kids, jobs, carpools and, ahem, sewing). I was a bit worried that I'd lose concentration on the book or sewing or both. Instead, the book deepened my relationship with my craft.
As all good things do, the book starts with David Bowie: a look at the artist, his motivations and his undeniable devotion to his creative process, beyond the quest for popularity and other common measures of success. Rao posits that because Bowie didn't play for the masses, he was able to create unique and fresh work – for the love of the work itself – that was ultimately successful. Bowie created for an audience of one.
Here are a few key points that have really stuck with me so far.
-We tend to undervalue creating for ourselves due to pressure to monetize our time and turn our creative pursuits into professional ones. Hello, every person who's asked me to make them something!
-By focusing on the end product and validation, we avoid creating bad things (which can evolve into great things, given time) and we undervalue the process. Guilty as charged.
The book helps creatives undo these tendencies by providing tips for listening as a creative: to your own creativity, to yourself (regardless of outside input), to your environment (building the creative space YOU want) and to others (as inspiration over comparison).
An Audience of One is an inspiring list, particularly while crafting. It's a deep dive and well worth the listen – before or after you post that cat picture.
Give it a quick listen! Click on the below to sample Amanda's selection.
---
Sewing Along to the Cadence of Story
Kate Zaynard, Editor

In tackling my first sew and listen, I was worried that a major story element would get missed, and even that my sewing would suffer. Boy, was I wrong! As it turns out, sewing and audiobooks go together perfectly. The sewing keeps my brain focused enough to keep my mind from wandering, while having part of my brain focused on the story helps keep my sewing steady and methodical. I get frustrated less, and find the more tedious sewing chores less so while listening. Most of the individual tasks that make up sewing — pinning, stitching a seam, pressing — are rote enough that I can do them while following a story quite easily, especially when working a tried-and-true pattern.
I'm listening to Lake Success by Gary Shteyngart, and it is interesting and very easy to pick up after a break for the non-sewing parts of my life. It's a general fiction story about a hedge-fund manager who flees his life and the wife he leaves behind, told from both perspectives alternately and read by two people, one man and one woman.
I am dead curious about where the male character, Barry, will end up as he embarks on his quest. Some fascinating patterns in his thinking have started to emerge, and I look forward to finding out if he breaks those patterns or if they break him in the end. I like the woman, Seema, and find her character deeply relatable. She's making some questionable choices, and that is keeping me hooked! I hope she finds her way to a reasonably happy ending.
It's a story about the betrayal of being unhappy when life has promised you happiness and how different people deal with that dichotomy. I'm making it sound depressing, but it's not — it is a satirically funny journey. Lake Success is very topical and contemporary, as well as being entertaining and linear enough to be a great choice for listening while sewing.
Sample Lake Success in the below player.
---
We will be offering a free download of Ivy and The Inky Butterfly by Johanna Bashford, starting on Monday, October 15, 2018! Johanna Basford is an adult coloring book illustrator. Her latest title Ivy & the Inky Butterfly included a story which she recorded on audio! The free download will be available here.
What does your sewing and listening life sound like? We would love to hear about the audiobooks that you are absorbing while practicing your craft. Let us know in the comments!