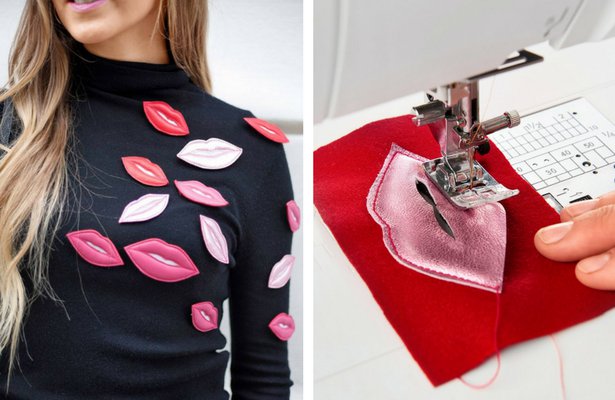 ShareThis
It's easy to see how much we love this trend. Lip appliqués embellish pullovers, tops, and more! Whether on the catwalks in the all-over look or striking on a T-shirt – the creativity is no limit to this trend. We show you how you can make the red lip applications yourself, just read on…

Here we see the lip-trend walking down the runway at the Paul & Joe show in an all over print and on the streets of Copenhagen in large decal form!



+ Metallic leather
+ Bondaweb
+ Style-Vil (both Vilene)
+ Thread
+ White cotton fabric
+ Red felt
+ Scissors
+ Straight pins
+ Lip templates (download here for free )



Trace the lips pattern onto the paper side of the fusible web and cut out.



Iron the fusible web lips piece onto Style-Vil and cut out.



Peel paper backing from fusible web. Iron lips to wrong side of metallic leather.



Cut out leather piece, adding 2 mm (a scant 1/8") allowance all around. Cut lip opening open.



Cut a lip piece from white cotton and iron onto red felt, with the help of fusible web (will fi ll the opening of the fi nished lips).



Lay the leather lips on the felt/cotton lip piece and edgestitch all edges in place, including the edges of the lip opening.



Hide thread ends securely on the back of the lips. Finally, trim the red felt along the outer edges of the lips.



Topstitch the lips with matching or contrasting thread, as desired!



We like the all-over look best. If you prefer things a little more subdued, place only one or two lips on your garment, like a brooch.



For garments that are not washed frequently, the lips can be easily sewn on – with all others it's best to use small safety pins. The lips can be quilted either with contrasting or exactly matching yarn.



Also try our Kiss Decal Shirt for a larger effect.