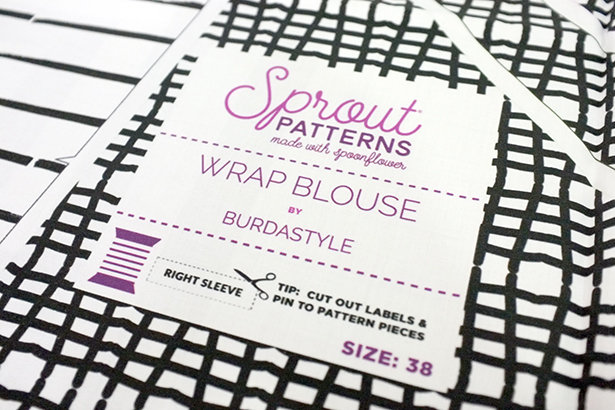 ShareThis
We are still so excited about our recent collaboration with Sprout patterns that launched in late 2017. There is something about Sprout patterns that suits every sewer. If you are short on table space in your studio, or are always finding it hard to find the perfect print on your fabric then Sprout will be your new go-to. Read on to see how Sprout projects save you time, money, and make you the most on-trend fashion sewer…

With Sprout, you get the fabric and pattern in one! No need to run out to the store, or purchase and print a pattern online to tile together. Sprout pattern lines are directly digitally printed on the fabric so there is no need to get out your paper scissors.
I know when I start a new project, it takes about 20 min – 1 hour to print out, tile, and add seam allowances to my digital pattern. But when I'm sewing a Sprout project I can just grab my fabric cutting tool of choice and get started right away. But not to worry, with your BurdaStyle Sprout pattern you'll also get the digital pattern in case you want to sew up a test garment or make the pattern again in a different fabric you already had.



If you don't sew often, you may not have a dedicated sewing space in your home. This means that your dining room table may double as your entire sewing studio. And in order to cut out a pattern accurately, you need a large flat surface to place your pattern pieces on your fabric matching up the grainlines to the selvedge edge. Sometimes sewers tell me this is the most frustrating part of sewing and that's why they don't sew as much.
But with Sprout patterns you can plop yourself on the couch with a pair of fabric scissors and cut out the pieces. NO large surface needed, and NO finicking and measuring to get the grainlines in place.



If you're a fashionista and always following the latest runway shows and trends then you can easily get inspired and recreate your favorite fabric trends! With Sprout you can be the fabric designer… meaning that you can either upload your very own artwork to be printed on fabric or choose from existing designs in the Spoonflower marketplace. This means that as soon as you see a new fabric print trend on the runway you can incorporate it into your next sewing project!



Getty Images – Marc Jacobs

Harper's Bazaar for example named Florals one of the fabric print trends for Spring/Summer 2018… "Groundbreaking? Maybe not entirely, but this season's florals were bigger and bolder than ever—offered in a variety of colors and retro-inspired prints to breathe fresh air into your wardrobe." – Harper's Bazaar
So if you want to get a head start on your Spring/Summer 2018 wardrobe sewing you can make designer like garments using trend forecasted prints and save money not buying these expensive designer brands.



We actually have our own signature Spoonflower prints that you can use on your Sprout projects. The above Boho Dots coincide perfectly with the large floral trend.



What I also noticed on the Spring/Summer 2018 runways were silhouettes similar to the BurdaStyle Mint Dress offered as a Sprout project! This is my favorite BurdaStyle X Sprout pattern as it suits so many different body types and fabrics. You can read more about this pattern here.



Getty Images – Céline

Recreate this designer style and choose the Suede fabric option in a coral-nude-pink color.



For this example I used the co-ordinate tool to extract the pinkish color in this print.



Getty Images – Michael Kors

Get casual and remake this Michael Kors style opting for the knit fabric! The knit option works for plus sizes as well.



Our watercolor print is a good choice to use. To select a particular fabric print when designing your Sprout pattern, filter by "designer" and type in "BurdaStyle" that's where you will find all our signature prints.



Getty Images – Rachel Zoe

For a cover-up or more beachy look, choose a lighterweight fabric option. I love Rachel Zoe's version!



Achieve the designer look by searching for a tropical print using our Mint Dress pattern.