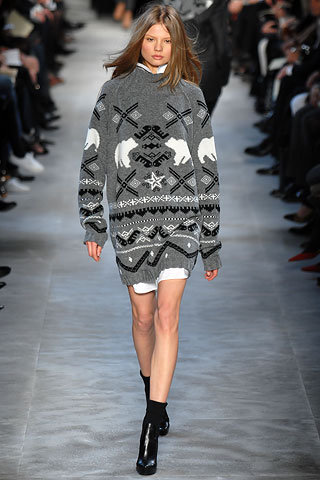 ShareThis
This week, BurdaStyle takes off, goes off and gets off track.

TREND

THE

MIRTH

OF

WOOL

There are big trends to note from the Paris shows – abstractions of mood; news about volume and proportion. And then there are the micro-trends, asterisks on the edge of the major stories. If one of the large Parisian trends this season was, in essence, "fashion goes to the Winter Olympics,"

the footnote must say something about campy wool sweaters. Fair Isle woolens made an appearance at Hermes and elsewhere, but anyone who went to college in New England recognizes the inspiration for the intarsia knits at Stella McCartney and Chanel: They are runway relatives of the reindeer and Santa jobs the cafeteria ladies wear around Xmas. Stella went full-bore Yuletide morning with a full-length onesie graced with polar bears and snowflakes; Karl kept the look demure, pairing a penguin sweater with a graphic puffer vest and Tyrolean tweed pencil skirt. Given the choice, I'd take Stella's version – not only because there's a genuine cozy appeal to an oversize pullover, one that begs for a fireside and some cocoa, but also because I respect her attitude toward frumpery. Karl Lagerfeld's arrogance is such that he believes he can take any look, no matter how degraded, and make it fashion. His arrogance is quite deserved; he has his followers, and the Chanel show grew even on me. But Stella, to her credit, seems to get that stealing tricks straight from the biddies at the lunch counter is not fashion, but a rebuke to fashion. Her show was one of the strangest and most subversive of the season, so much did it seem to flip the bird at its intended audience. Those polar bear sweaters are a taunt, I swear: Wear this without smirking if you dare.