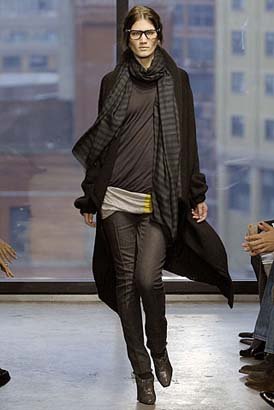 ShareThis
This week, BurdaStyle gets serious.
TREND REVENGE OF THE NERDS
I really wanted glasses when I was a kid. Some character in a book I loved probably had specs; maybe Harriet, in "Harriet the Spy." Around the same time I made my mind up that I wanted glasses, I also decided to change my name to Clarissa, indeed, would answer to nothing else all of first grade. My judgment as a child was dubious.
When I was nine, I got my glasses and I've regretted my imperfect eyesight ever since. Carol Gilligan has done studies showing that young girls in general like to appear smart they raise their hands in class, they suck up to teachers and get good grades. By junior high, however, the paradigm has flipped: Intelligence is a one-way ticket out of popularity. I was the kind of kid who read past bedtime with a flashlight under the covers, and until I had glasses, I guess I'd wanted them as a badge of my bookishness. And that's exactly what my glasses were. I didn't mind at first at first, I merely discovered that wearing glasses, and needing to wear glasses, was a hassle. Only later did I see that having glasses made me suspect, a nerd.
I've had contact lenses since high school. I wear them almost always. When I do go out in my glasses, a half-rimless, sexy librarian style of pair, people often tell me that they "work" for me. Nothing sends me back to the contacts faster than that comment. It's not like I'm shy of acting smart, but something in me doesn't like to signal my personality in advance. Glasses match me too well, I suppose; they reveal me, and little of my me-ness is generally in vogue. This season, I think, is the exception to the rule. When Yigal Azrouel sent models down his runway wearing big, black-rimmed glasses, it struck me that a sharp tongue, a sagging bookcase and a subscription to The New Republic were appropriate accessories to the largely serious and, yes, bookish looks for Fall 2007. You often hear talk of a "thinking man's sex symbol," but Yigal's show summarized the rise of the thinking woman's sex symbol: The thinking woman, herself.