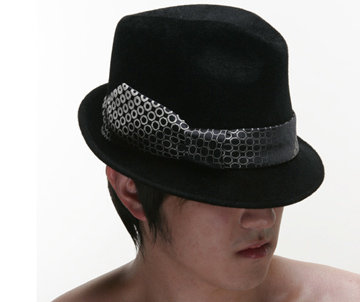 ShareThis
This week, Burdastyle lives la maschile vita.
Man O Man
Marc Jacobs is a superstar not because he makes beautiful clothes many designers do that but because of his remarkable ability to put a finger on the pulse of a budding look. There was a certain sobriety to the clothes he showed for Fall 2007, different from the well-nigh apocalyptic aesthetic of his previous fall collection, but discernible in the way the proportions and accessories hearkened back to such previously gloomy eras as the Depression '30s and the stagflation '70s.
Along with a few other designers, his favorite shoe was a sturdy, stack-heeled brogue, and Jacobs was likewise joined in other androgynous gestures mannish fabrics, suits, pants and belts. Fashion errs toward the masculine when designers decide it's time for women get tough, and grow-up, and that was the collective New York mood. But what stood out at Marc's show were the hatswide-brimmed, cloche-like, bright or gray, they topped off nearly every outfit and gave the collection its sense of refinement. Those hats were awfully specific, though which is to the designer's credit, but a hard thing, trend-wise, for women to absorb into their daily looks. What you'll see on the street are Marc's turned-down fedoras, or knock-offs or approximations thereof. That hat's a trend twofer, millinery with a vintage feel and a financial district frisson, and you can get a head start (so to speak) by raiding grandpa's closet or seeking out Eugenia Kim's Max hat, which advances the style with its shortened brim and necktie embellishment.