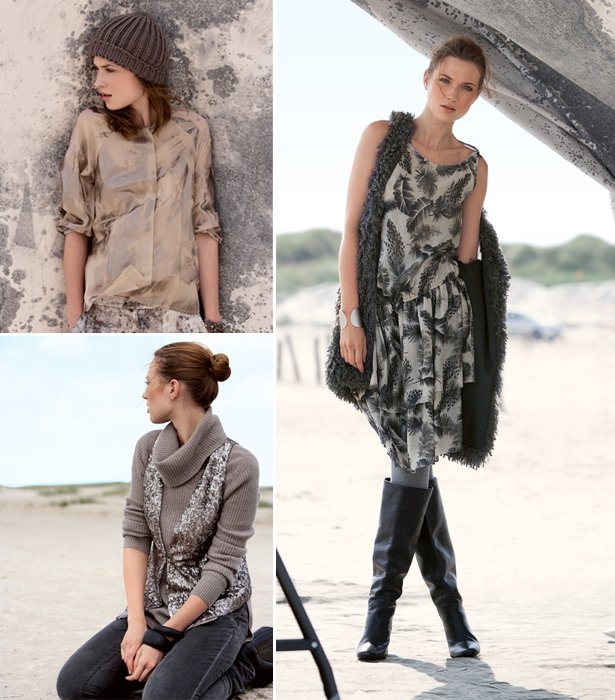 ShareThis
Take a look at this new pattern collection from burda style magazine's November issue. Wafts of mist and dark outlines put on a creative show in these November fashions. Nature prints are seen in soft and free-flowing silhouettes. Indulge and let these new patterns catch in the wind.
Tunic and artist's canvas all in one. The cut of this Tunic is clear and simple so that this lovey pattern can unfold on the silk satin. It is slightly flared and has a broad neckline with a standing collar and a loop fastening. Three quarter sleeves make it especially comfy.
Narrow Trousers with hip yoke pockets for a really classic look. Their highlights include the shimmering fabric, and the ankle hem length to show off some lovely shoes!
A batiste dress for winter? Why yes, here it is the Dropped Waist Dress. Swirling to the knee, with twists to emphasize the shoulders. A drawcord below the waist lets the rows of ruffles in the skirt flutter gracefully. We love it worn with this cuddly Fur Waistcoat.
Lovely and warm for the winter, this Short Sleeve Jur Jacket with round neckline matches every look. The faux fur has a patchwork look. It's padded, slightly flared and hip-length. The front fastening is a simple fur hook.
Lovely for the office or for an evening out. This Chiffon Dress brings out your figure and has a delightful asymmetrical hemline with a section band. And, because it's cold outside, the neckline is not so low and then dress is lined with a second chiffon layer.
A Bell Skirt like this is one of the must-haves of the winter. Calf length and with a wide swirl, it's not only gorgeously feminine, but also gives great warmth. The waistband is made from petersham ribbon and closed with a side snap fastener.
Batiste meets metallic – a striking combination for dark winter days. With 3/4 raglan sleeves, casual width and bust darts, this Metallic Blouse will be one of the new favorites of the season.
With shine to lighten up the November blues. This Sequinned Waistcoat is an eyecatcher, not only thanks to the sparkling, sequined fabric, but also because of the lovely narrow shoulders and long V-neckline. Front and back section seams fit it to your figure and give the whole jumper a feminine look.
Happy Sewing!