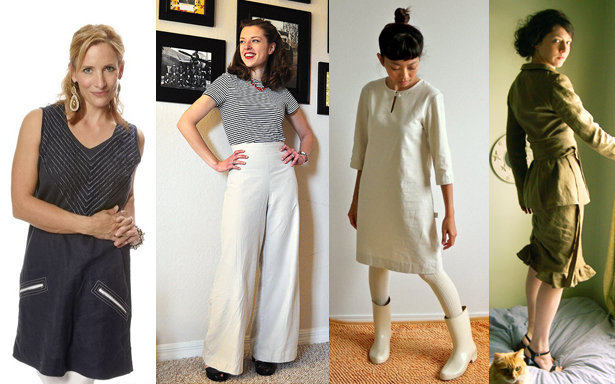 ShareThis
Warm weather brings dreams of warm beaches in white linen pants, navy linen shifts, floral linen skirts. Some of the things that makes linen such a favorite is that it can be machine-washed and dried and it is cool to wear since it breathes and seems to get better with age.
If you love bias cut garments, linen makes a great choice since it drapes well on the bias while being stable to work on. Why not try your hand on linen and bias at the same time in A-line shift Vogue Pattern 1101, as shown above left? Since this is one the Today's Fit patterns I designed, it fits differently that other Vogue Patterns. Today's Fit sizing is based on ready to wear sizing. Since each pattern is multi-sized, simply use the size you measure in different areas of your body. Or try these great patterns from BurdaStyle: JJ blouse, Liz blouse, Linda Skirt, Tonia Shorts
A trick, which will really cut down on wrinkling, is to press the fabric with a dry hot iron, followed by prewashing in a hot machine wash and hot dryer. This will soften the fibers, making it drape better and less likely to wrinkle excessively. Linen does still wrinkle a bit but perhaps that is part of its charm. Linen is not needle-particular, a 80/12 H would be my first choice. Linen is not thread-particular either. You can sew with cotton or polyester thread using a stitch length of 2/5mm.
If you are sewing on bias, sew seams with a small zig zag (1.0mm width and 2.5mm length) to allow the seams relax as the bias cut fabric relaxes. Since bias does not ravel, no seam finish is necessary. If you are working on a garment cut straight of grain, my seam finish preference would be flat fell since it is easy to iron and finishes off the seam cleanly. "Let a bias cut garment hang for 24 hours before hemming ". This old adage can be ignored if you steam press the garment well after construction, intentionally stretching the fabric up and down on the garment as you press. This will simulate the heat of the body and enable you to hem sooner. Bias does relax as it is pressed and hang uneven in different places, so I would suggest marking hem with a hem marker after steam pressing.
Do you have any linen projects in the works? Check out these awesome member creations made in linen and get inspired.
Sandra Betzina, host of the Power Sewing WebTV Show and the Power Sewing Learn to Sew Series, is a world-renowned sewing instructor.
Sandra is the author of More Fabric Savvy, Fast Fit, Power Sewing Step-by-Step, No Time to Sew and Sandra Betzina Sews for Your Home. She has produced a skill series of 11 DVDs and also designs a full line of patterns for Vogue under the Today's Fit Tab. Sandra is also a popular speaker and hosts several week-long sewing retreats in San Francisco throughout the year.
For more great tips on working with denim and many other types of fabrics, refer to More Fabric Savvy and enroll in the Power Sewing WebTV Show.