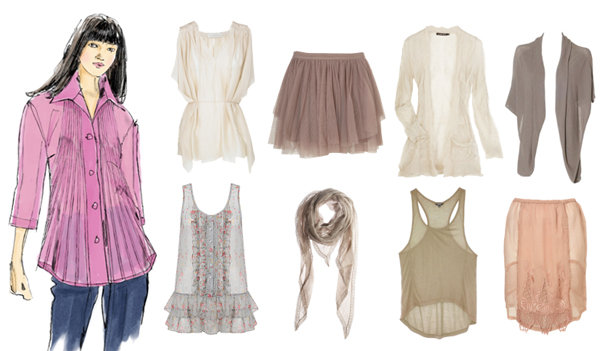 ShareThis
One of the big fashion trends right now is the semi-transparent/sheer jacket or overblouse. This is beautiful worn over a dress or a camisole.
One pattern which works well for both an overblouse and a jacket is Vogue 1165. You can eliminate most of the work by making the roll up sleeves (View B) rather than the cuff and placket version. You can use sheer fabrics such as Chiffon, Georgette and my favorite, Silk Organza.
·To sew on silk organza, you need a fine needle 60/8 or 65/9 HJ or HM, which has a sharp point. Be sure to use lighter-weight thread (such as fine silk machine embroidery) so that the seams will not be bulky.
·As far as interfacing goes, you want to use self fabric, such as another piece of organza to maintain the fabric's transparency.
·For the lightest weight invisible hems, read the blog post called, Sheer Magic, written by one of my most talented students, Billie Burk.
·Since Machine-washing and machine-drying softens organza slightly, preshrink only if you want to change the hand. Fabric does not shrink so you can use it as is. Dry-clean finished garment.
For more great tips on working with Silk Organza and many other types of fabrics, refer to More Fabric Savvy, check out my Fabric Photo Dictionary and enroll in the Power Sewing WebTV Show where you will learn tips and techniques that will take your sewing skills to the next level!
Let us know: What's your favorite sheer fabric?
Sandra Betzina is the host of the Power Sewing WebTV Show and designs a full line of patterns for Vogue under the Today's Fit Tab.
Sandra has also produced a skill series of 11 DVDs and is the author of: More Fabric Savvy, Fast Fit and Power Sewing Step-by-Step. Her new book, Power Sewing Toolbox: Tips & Techniques Not Found in Pattern Instructions will be released in October, 2010.
For more information about Sandra Betzina and Power Sewing visit www.powersewing.com.