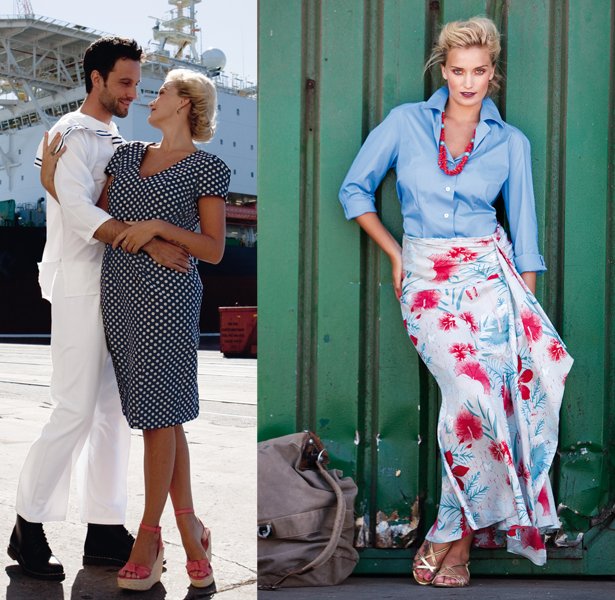 ShareThis
We share with you these lovely new plus size patterns from burda style magazine. The sailor inspired pattern collection has a nod to the 50s and includes some great fitted dresses alongside knit tops and maxi skirts.
Make yourself a classic summer tunic and pair it with a long maxi style skirt or get a complete look by sewing one of these elegant dresses. These figure flattering designs will make you sew happy, with their elegance and wear-ability. Scroll down to see all the styles and get inspired by these great styles.
The Tunic Top is perfectly paneled and great for color blocking! It features a boat neckline, short sleeves, and loose fitting silhouette and it looks great paired with leggings or a skirt.
This classy Scoop Neck Dress has a banded scoop neckline and feminine silhouette. This dress has an interesting sleeve construction that gives the armholes a neat detail. You could wear this dress in the day with some cute sandals, or dress it up for a date night!
The Flounce Skirt is flowy and beautifully draped. It has a great gathered waist band and front flounce. It is paired with the "Long Sleeve Blouse": – a classic button-up shirt with a modern twist. We love the saddle sleeves and the perfect collar for popping.
This is a flattering 1950s style Dart Dress . It features many exposed darts which add structure to the dress. You can omit the sleeves, or sew the dart on the inside for a different look. We love this form fitting dress and think it would look great sewn in a print or solid fabric.
Here is the V-neck top which has a plunging V neckline. The yoke and long attached bands that tie at the back are great! This top pairs perfectly with a nice pair of trousers or a sleek pencil skirt.
This collection features many figure flattering designs, from form fitting cocktail dresses to comfortable tops and skirts. We love the nautical feel of this collection and think that any of these pieces would work great in any wardrobe. If you want a quick and easy weekend project try making the V-neck top or the Flounce Skirt, it has step-by-step instructions on how to sew. Or if you feel like a challenge and want something elegant we suggest sewing the Scoop Neck Dress .
Happy Sewing!