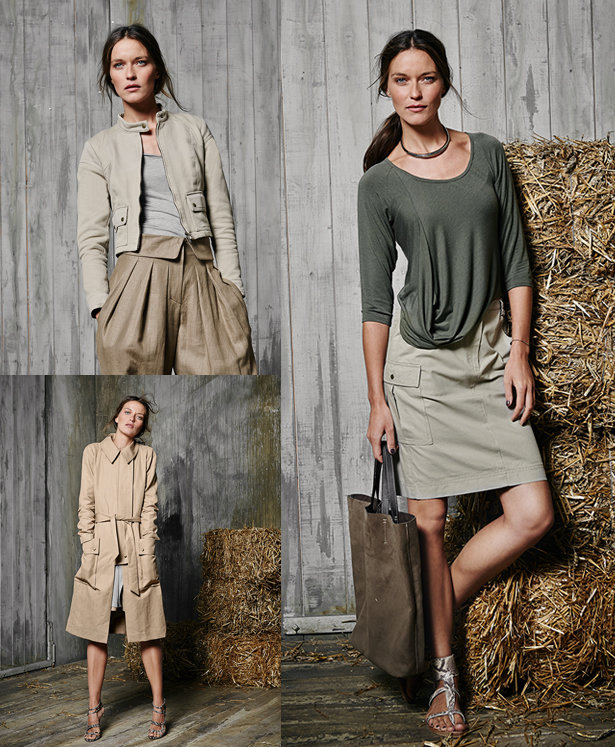 ShareThis
Dress for adventure in muted shades of khaki from the February 2014 issue of Burda Style magagazine. This collection is simply elegant with unusual draped silhouettes, cargo pockets, and casual shirt dresses.
Shirt dresses have such effortless casual style. The Cargo Pocket Dress has a slim waist, modern round neckline, and cute cargo pockets for a utilitarian feel.
A simplified Desert Moto Jacket is just the thing to toughen up your look on a wilderness trail or the city streets. Front pockets and a short collar go with anything, especially in buff colored real or faux suede.
Cinch this dress as high as you want with ties that let you ruche the sides to suit yourself. Short sleeves balance out the deep V neckline.
Layer this casual Safari Dress over a cami for the perfect weekend or beach outfit. A modest length and thigh high slit are sexy but subtle, and a chest pocket adds a little detail. All you need is a fun pair of sandals.
Pack a bag and hit a safari trail in this functional Cargo Skirt. Pockets hold everything so you can hike in style. Pair it with a cool asymmetrical top in easy to wear jersey. A wide round neckline keeps you cool.
Soft and fluttery, this casual Layered Jersey Dress is pretty and feminine without being fussy. Nip in the loose silhouette with a skinny belt or leave it breezy.
Soft and roomy high waisted Safari Pants have runway style for an instant look. Just tuck in a simple jersey top and pair with some cutout oxfords for a chic menswear-meets-high fashion look.
Comfy jersey tops don't have to be boring. The Knotted Keyhole Top has an alluring keyhole peeking out from an unusual knotted neckline. It's fun to sew and cool to wear.
What looks like a trench at first glance is a fun little Cargo Coat with a short collar and surprise cargo pockets. It's springy but warm, perfect for the late winter months.
Planning an outdoor hike or backpacking trip can make a cold weekend indoors a lot more fun. When you're ready to pack your bags, this collection has all your traveling essentials!
Happy sewing!