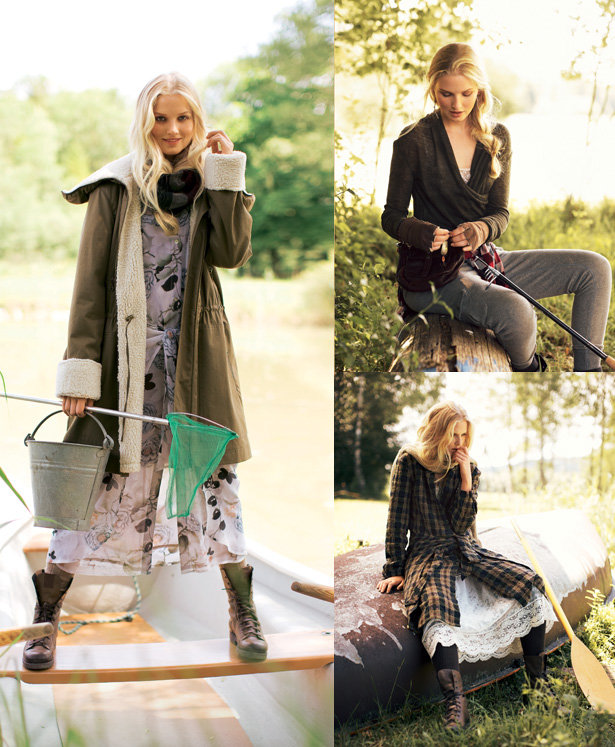 ShareThis
Go far afield in wrap dresses, detailed jackets, and comfy separates for fall. These patterns are from the November 2011 issue of Burda Style magazine. All instructions for previously published patterns have been updated.
Silk chiffon gets a pretty layered look from a wrap skirt knotted at the waist in the Buttoned Wrap Dress. This button down dress is finished with a high collar and buttoned cuffs. It's a little bit country and a little folksy.
Fine slubby knit fabric and a wrap neckline make the Knit Wrap Top something special. Wear it with leggings on the weekend or your favorite jeans.
This Jersey Parka with Hood has drawstrings at the waist and hem to cinch against the cold. Elastic cuffss and a drawstring hood are functional and rugged for hiking outdoors or sightseeing in the rain.
Add some subtle drama to your look with tight fitting Leather Pants. these trousers are form fitting with a smooth front and back and zippers at the leg and waist.
A rustic Plaid Wrap Dress for that dream getaway in a cabin or bed and breakfast. This dress is sewn in a double layer of fabric with a wrap skirt and button down front.
A long sleeved jersey tee gets an extra dose of style from a wrap neckline. This top is just as comfy as your favorite tee shirt, but it's dressy enough to wear with skirts or trousers.
This snuggly Parka with Lambskin Cuffs and Collar is ready for anything. The oversized cowl collar and generous length protect against any kind of weather, and shearling edgings keep you cozy. This coat has an outdoorsy, sporty look.
This extra long jacket slips easily over maxi skirts and dresses, like the Long Print Skirt. It's an outfit a Jane Austen heroine might wear today with a knit scarf and boots.
Explore the great outdoors in style in this collection. A utilitarian jacket slipped over a soft tee or dress is jsut right for fall apple picking or strolling through autumn leaves.
Happy sewing!