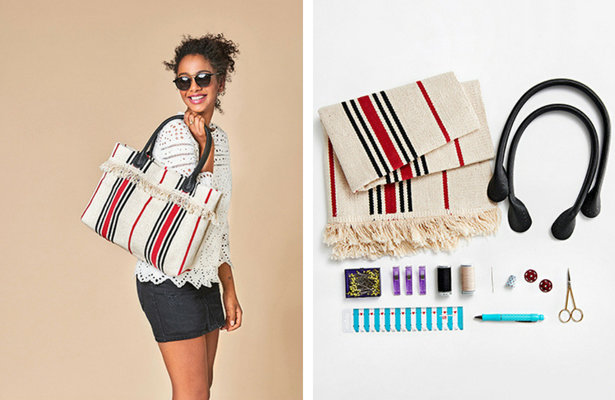 ShareThis
IN THE BAG – From throw rug to striped beach bag in less than two hours. Get a rug with a fun trim on it to elevate the design of your beach bag – this bag being so easy to make, you can whip up a matching one for every swimsuit you have!

Rug style bags are not just for the beach – these fashionable large purses are also great for the streets!



+ Throw rug "SIGNE" (IKEA)
+ Black purse handles
+ Red snap fastener
+ Thimble
+ Chalk pencil
+ Ruler
+ Long straight pins with plastic heads
+ Needles
+ Clips
+ Scissors
+ Extra-strong sewing thread in beige and black



Step 1: First, press the rug. Fold each end under, 7 cm (2 3/4") wide, right side facing in, and pin in place (use long straight pins with plastic heads)
Step 2: Zig zag stitch along the end seam on both sides, to hold the turned-under edges in place. Since the rug is quite heavy, we recommend using a machine needle for denim or leather.



Step 3: Now fold the rug in half, right side facing in, and pin edges together on both sides.
Step 4: Stitch each side seam, stitching 1 cm (3/8") from edge. If your machine has trouble stitching through the 4 layers, hand-turn the hand wheel to stitch these areas.



Step 5: To form the base of the bag, fold each corner so that the side seam meets the bottom fold. Pin the corner.
Step 6: Stitch across each pinned corner, approx. 5 cm (2") from the point. Mark this stitching line first, with chalk pencil, if desired.



Step 7: Determine the attachment points of the purse handles and mark them on the rug. Clip the handles in place.
Step 8: Hand-sew the handles in place, along the existing holes.



Step 9: Finally, hand-sew the snap fastener to the inside of the bag, centred on both sides. Hide the thread ends well.
FINISHED! Fill with your favorite beach accessories and don't forget a swimsuit. Need a new one? Try sewing this one from our 07/2018 issue.