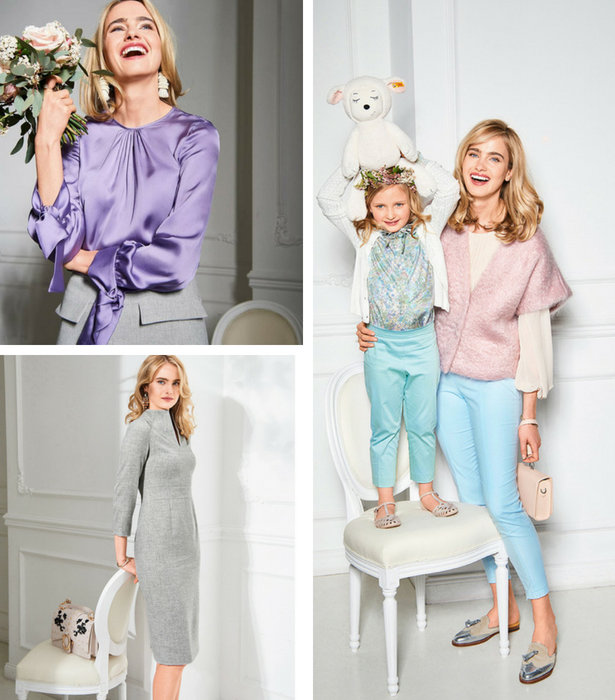 ShareThis
These outfits from the 09/2018 issue of BurdaStyle magazine have the aura of royalty with couture details, sophisticated fabrics and fabulous colors. Patterns in women's and children sizes!
Click here to see and shop ALL the patterns in the 09/2018 issue!

A narrow yoke emphasizes a visual lengthening of the legs on these pants. The ankle length narrow fit is especially comfortable thanks to the stretch in the fabric and an invisible zipper in the inside leg seam makes them easier to get on and off.



Whether your plans include a visit to the theater, a business meeting or a wedding invitation this casually fitted tweed dress with the wide standing collar and raglan sleeves is one for many occasions. It is an especially flattering look for petite women.



Looking for a way to keep soft shades in your autumn wardrobe? This jacket in a cozy mohair is a great start. The wide and overcut shoulders leave room for soft layering at the sleeves. The style also works well when worn open.



A mesmerizing ultra-feminine and figure-shaping look when you pull on this pencil skirt sewn with a shimmering pure new wool. The stylish extra: a wide and diagonal belt loop accent in front.



A sumptuous lilac color and an elegant cut are a winning combination in this blouse. The silk satin features delicate pleats along the neckline and wide cuffs that tie softly – and the slightly longer cut ensures that it neither untucks nor billows.



For the office or an important engagement, this feminine dress with a bow at the neck and a softly swinging skirt is sure to draw appreciative looks. The sleeve style lends itself easily to adjusting the pattern to longer or shorter according to your preference.



Ladylike with a cool flair…a tailored jacket sewn in an ice blue wool gets an accent along the neckline with the pronounced bow and a relaxed vibe with a metal zipper front. For a sophisticated two-piece suit set, combine the jacket as shown here with the pencil skirt from this same collection, or keep it casual when worn with a pair of jeans.



A striking classic that demands further inspection! The knee-length dress stretches the figure with its chalice collar, shaping panel seams and a raised waist for a sophisticated silhouette. The stretch of the fabric also makes it extremely comfortable.



It looks like it is quite a bit of work, though it actually comes together quickly and easily. The lightweight jersey shirt drapes with the surplice neckline and the overall look is one that softly wraps the figure.



Hello, mini me! The ankle length trousers are just as chic for the minis as they are for mums. They get a slightly more casual cut, though, for room to jump and play with friends without a worry.



Our minis get dressed to the nines in this blouse with the cute collar and softly gathered elastic sleeve hems.



Beautiful…just like mama! Sewn with a delicate pink color mohair, the coat comes together quickly and really adds a special layer to every outfit. Pockets in the seam can keep hands warm and snaps keep it closed in front. A decorative bow completes the charm.



This dress has such a sweet touch with the narrowly cut bodice with the double row of decorative buttons and a wide skirt panel. Bouclé is an elegant fabric choice. Choose a denim, a warm flannel or a corduroy as other options for an everyday flair.



This blouse is grand and wonderfully girly with a pleated collar neckline. The fabric itself is also a wonderful choice as it is easy to wash…



Be comfortable and be classic in this fun pleated skirt. See how to sew this skirt below:



Materials:
+ Fabric (important: a polyester blend to hold the pleats in place)
+ Measuring tape
+ Elastic
+ Scissors
+ Sewing pins
+ Magic chalk
The measurements for fabric and amounts needed can be found here.
Step 1: Finish edges of both long sides of the fabric. Use chalk to mark lines in the fabric spaced at (2.5 cm/1 in) intervals, pin the pleats in place, press evenly, baste in place at the upper edge



Step 2: Sew the narrow fabric ends together, right sides facing. Finish and neaten seam allowances.
Step 3: Cut the elastic to fi t (waist + 2 cm/ .75 in), stitch the narrow ends together to make a circle. Stretch to fit the upper edge of the skirt, pinning and topstitching to finish.


Make all these royal styles with the discounted pattern collection bundle here!