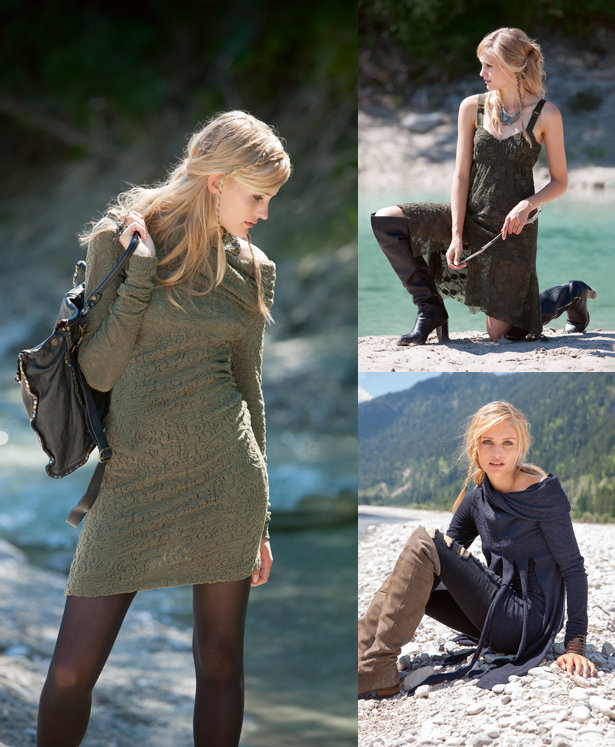 ShareThis
Escape the dreary cold with this unique collection of rugged cold weather designs and ethereal new dresses. They're just the right distraction from bad weather. These patterns are from the December 2014 issue of Burda Style magazine.
Use up scraps to embellish this Dolman Top with an unusual mix of fabrics. It's a super easy make with cool results.
A few pieces of stretch imitation leather give this Flared Skirt great tough detail. The hip yoke and flared pleated shape are fun to wear with your high heeled booties.
Quilted look jersey gets extra detail from raised seamlines to make this turtleneck high fashion. Make one with some texture and another in plain stretch jersey.
Play the seductress in this knee length pencil skirt with a high leg slit and lace overlay. It's dramatic with tights in the fall or a light tank in the spring.
An elegant coat for ladylike women with wide bell sleeves and an unusual asymmetrical collar. Make it even more special with applique along the front.
The Belted Cape sophisticated coat alternative with raglan seams, shoulder tabs, and deep patch pockets. A belt at the center tames the width and holds it closed for warmth.
Play with asymmetry and texture in the Lace Cowl Dress. The side seams are gathered to create some movement and the deep cowl neckline is perfect for a cozy fall look.
This deconstructed off the shoulder dress looks like two shirts in one. The top layer is cut for a trendy fringe effect.
Mix sporty and feminine in a deconstructed Lace Tank Dress with adjustable wide bra straps. The effect is a little sweet and a little grungy.
This quick and easy poncho is a a wonderful gift in someone's favorite color. Whip one up for a friend, and one for yourself!
Bring back the swinging 60s in this mod A line dress with a super short hem and empire waist cut. The crisp box pleat has a nice contrast with playful ruffled sleeves.
A pretty, graceful Full Mini Skirt with grosgrain ribbon accents is a versatile addition to your wardrobe and easy to sew.
Sew up your own cold weather escape with leather and lace. These designs look even better layered up with tights and boots.
Love all these patterns? Get the whole pattern collection here in one download at a savings!
Happy sewing!