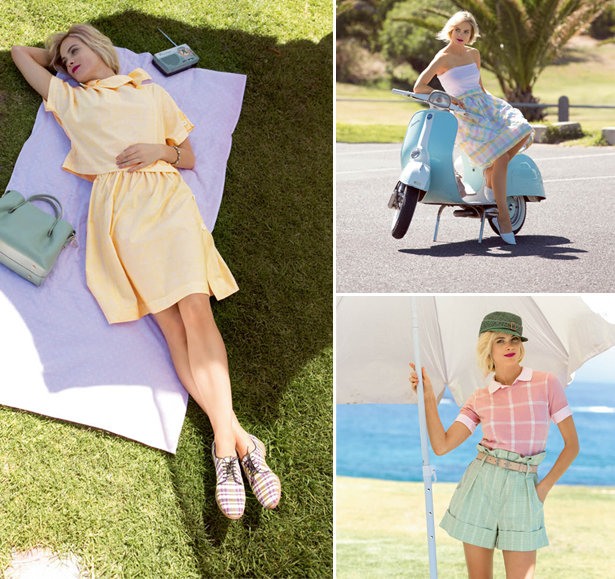 ShareThis
This summer collection comes to us from the June issue of BurdaStyle magazine and is full of romantic retro patterns to wear all summer. You will find easy to wear (and make!) skirts, shirt dresses and a warm weather bomber jacket for chilly evenings.

Italian Light Green/Baby Pink Striped Shirting; Green Striped Cotton Shirting; Linen
These summer shorts feature a paper bag waist, which is feminine and fun! You will also see there are large cuffs, a cinched waist and pockets. Make sure to tuck your shirt in to show off the waistline of your shorts!

Light Neon Pink/White Striped Cotton Voile; Italian Pink & Blue Striped Cotton Shirting; Italian Pink & White Striped Cotton Shirting
This shirt dress is midi length, which hits just below the knee and features two breast pockets and an elastic cinched waist. Very feminine and class!

Canary Mesh-Like Cotton Gauze; Pale Banana Yellow Silk Charmeuse; Sunshine and White Narrow-Stripe Cotton Shirting
Hop on your vespa and feel the summer breeze in your hair! This adorable button up top features a high-round collar, short sleeves, two breast pockets and a cinched elastic waist.
This A-line skirt features an elastic waist and button details at the side. The perfect girlie skirt to wear in a multitude of colors all summer long! Plus, it's a breeze to make!

Banana Solid Cotton Lawn; Italian Maize Yellow Striped Stretch Cotton Shirting; Liberty of London Suria Yellow/Orange Silk-Cotton Voile
This retro style top has a boxy silhouette and an asymmetrical stand-out flat collar with button detailing on one arm sleeve. Pair it with a matching skirt or shorts for a polished summer look!

Candy Pink/Tiffany Blue/Maize/Orchid Herringbone Woven; Italian Pink and White Checked Cotton Shirting; Italian Soft Pink Windowpane Checked Cotton Shirting
Pack your picnic basket and throw on this lightweight shirt dress! It features button up closure to the side, a nice departure from your standard shirtdress as well as the omission of a collar. You could also wear this with the top button undone for a less matronly look.

Soft Pink and White Striped Cotton Jersey; Pink on Pink Striped Rayon Jersey; Cadet White/Metallic Gold Striped Polyester Jersey
This super simple to sew top is just as easy to wear as it is to make! Pair it with high-waisted shorts or an a-line skirt for a sweet summer look.

Antique White Striped Woven; Italian White, Sherbet & Antique Blue Striped White Striped Cotton Shirting; 7 X 38 inch White Acrylic/Spandex Rib Knit Trim
This classic bomber jacket gets a casual twist with cotton knit fabric in pastel shades. It features a large collar and front diagonal detailing. Perfect for chilly summer nights!

Multi-Pastel Plaid Yarn-Dyed Cotton Twill; Italian Red/Green Slubbed Plaid Cotton Woven; Pink and White Striped Cotton Shirting
This pastel checked A-line skirt is perfectly paired with a simple top tucked in. Easy to make and tres chic!
In LOVE with all of these patterns? Get then all here in one convenient download and at a discount!.
Happy sewing!