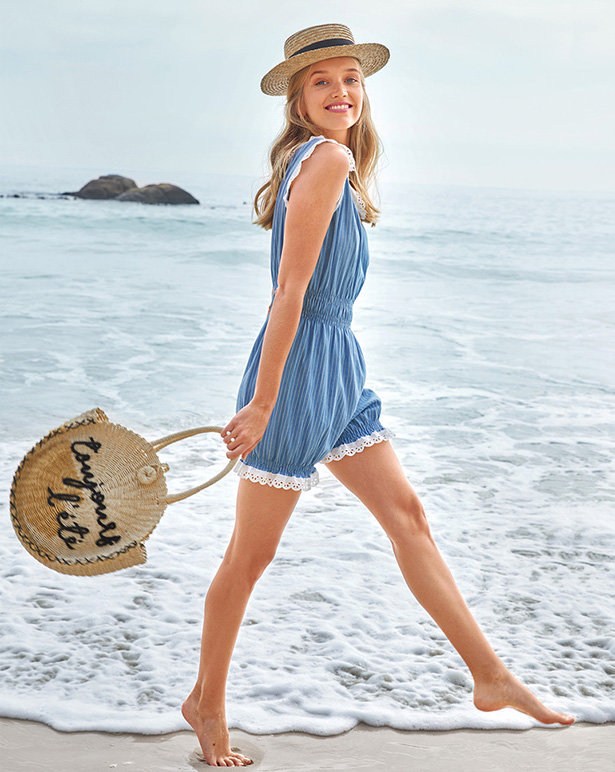 ShareThis
Breezy, cute and so cozy: This romper originally published in 1958 has lovely lace accents, and is an ideal option for the carefree days of summer.
Here comes the ultra-retro style that reaches back to the summer of 1958, where this look was introduced as being "reminiscent of Grandma's time." This look was worn earliest as a swimsuit, though in the 50s it was introduced as beachwear.

Today, the look is one of a relaxed romper for casual days. We kept the cool, striped cotton that has the vibe of being at the shoreline. The extra accents of white lace trim add a sweet charm. The look doesn't stop at "sweet," though, because the elastic smocked waist and short hems are comfortable and practically wrinkle-free. Together, these details make it a perfect travel outfit.
Even long trips will be easy to manage without feeling restricted or dealing with unsightly wrinkles – so the iron can stay home. And for those who find the romper a bit too frilly, some possible modification: leave the lace out of the look, finish the edges with a piped trim and don't use the elastic on the lower hems. For any look you choose, the perfect accent at the waist is a wide belt.



To get this style totally beach ready, simply grab your favorite beach hat, sunglasses and towel. Also don't forget the sunscreen! If you need a new swimsuit to wear underneath, then try some of our most popular swimwear patterns below:



top left: Bikini 06/2011; top right: Bikini 07/2018; bottom left: Retro Bikini; bottom right: Bandeau Top