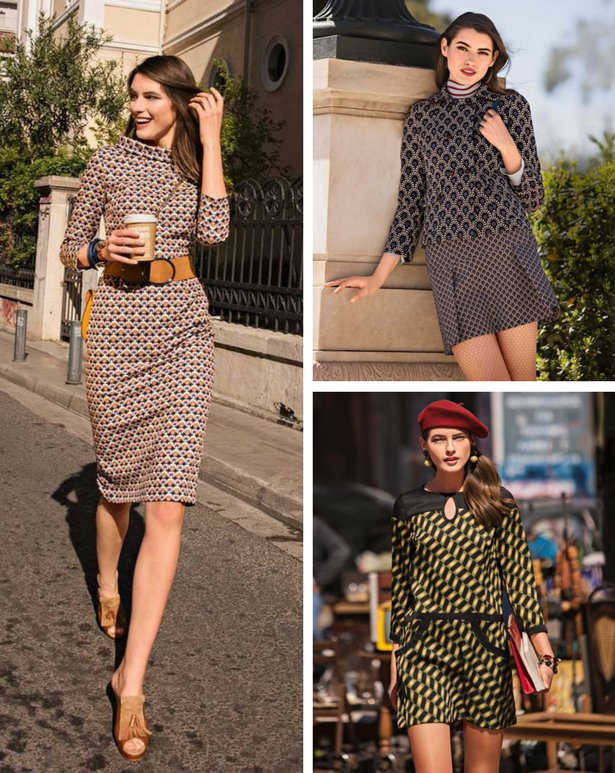 ShareThis
Classy mini skirts, breezy dresses and bold necktie patterns round out this collection inspired by the swinging '60s! Get ready to fill your wardrobe with these great looks.
The perfect shape results from perfectly placed panel seams and darts to follow the figure. The fitted dress with the exaggerated neckline banded collar is a beautiful season highlight. If you prefer to wear hosiery, sew a slip dress, e.g. Style 114 from BurdaStyle 5/2013, to support the beautiful drape.
A teardrop shape at the neckline, accent bands and Italian pocket design of this lightly flared mini skirt get an eye-catching contrast with the black fabric. Those who like to add an additional layer of statement to their dress
can pair the look with leather leggings or a pair of cool over-the-knee boots.
Jacquard adds an interesting structure to the double-breasted jacket with the narrow turn-down collar. The sewn-in shoulder pads on this style help it sit perfectly across the shoulders.
This lined jacket sits impeccably close to the body and is a perfect piece for the change of seasons thanks to the wool fabric. Surprising details give it that second look as it is shaped with rounded inset panels, pockets
and a double-breasted closure with sharply contrasting buttons that draw the eye to the fantastic lines.
Slightly flared, cropped and in a cool necktie pattern…the low rise trousers with a shaped waist add style to the everyday look. Naturally, these trousers are also a great choice to pair with basics like a white blouse or tees.
This quickly sewn boxy shirt with the bold banded collar and straight-line sleeves is a perfect choice for anyone looking to try a graphic print look.
Mary Quant made these popular, Twiggy loved them, and we can't get enough of this season's mini skirt trend either. This one features side bars that visually draw in at the waist and inverted pleats for a modern tweak to the
two-piece skirt suit when paired with the jacket.
The asymmetric exposed zipper in front isn't just for practical purposes. The zipper is also a stylish detail. The balanced silhouette of the skirt is due to darts in both the front and back panels.
Download the pattern collection bundle here to get ALL the patterns in this collection!