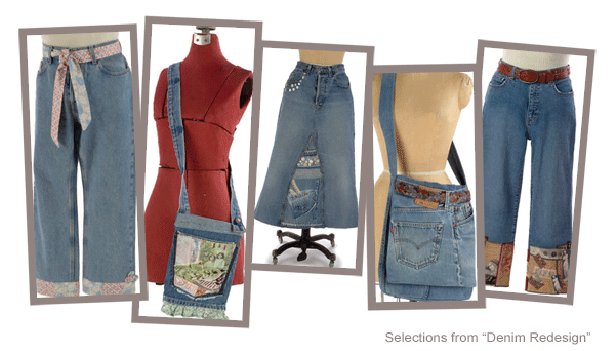 ShareThis
The current trend to recycle, upcycle and reuse is wonderful to see. However, as sewers this is nothing new to us. Sometimes it's as simple as a button, other times we'll tear down a vintage dress and remake it into something altogether different and altogether spectacular. Interestingly, over the years I've found that one material has consistently been repurposed more than any other: that material is denim.
Denim's popularity shouldn't be too much of a surprise. Is there any other material that has woven itself into our national consciousness as much as denim? Although as old as the Renaissance itself, the modern popularity of denim, and subsequently our fascination for the material, can essentially be traced back to five men – Levi Strauss etched denim into our collective consciousness as a reliable and sturdy material; James Dean made an otherwise utilitarian item of clothing sexy; and the Nakash brothers (Joe, Ralph, and Avi) launched Jordache jeans and our wardrobes have never been the same. This triumvirate of sturdy, sexy and fashionable will always keep it at the forefront of the reuse trends.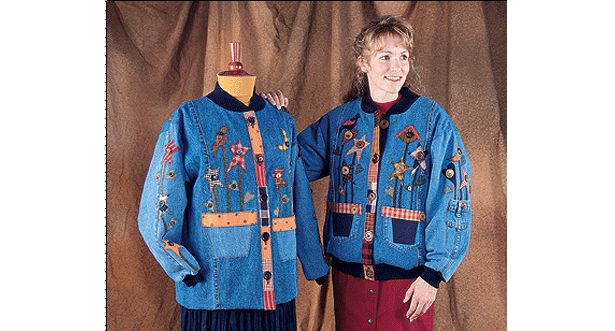 Over at Indygo Junction, our first pattern for recycling was the Jacket From Jeans way back in 1996. Over the years we've gone on to produce several recycled denim jean designs. Today I thought I would take a minute and share some of the techniques we featured in our designs to spark your creativity!!
The first idea: re-use the jean pockets on a purse with the waistband as a strap (you can see a number of variations of this in our Denim Redesign book.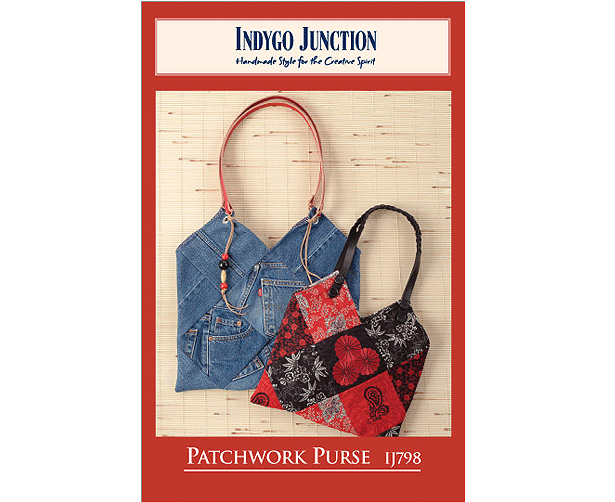 Next, even if your jeans are knee-worn and on their last thread, you can still use them in some fantastic ways. Our Patchwork Purse is made from denim squares, easily harvested from the aforementioned worn-out jeans. It makes for a unique look when you vary the squares from darker to faded in this design.
Don't forget that you may need to reuse several pairs of worn jeans in a project. Our Placket Jacket is a wonderful example of a classically retro design that can be fashioned from several "scraps" of denim. In fact, with our pattern, instructions are provided that specifically address constructing it using recycled denim jeans (as a side note: if you do make this one, remember that serged, variegated thread adds great detail).
The next example I'd like to share is a darling Teatime Dress and Coat. It features a fantastic jacket design with unique back belt detail and a stencil incased in a raw edged denim frame. The princess style seams in this pattern are created by the felted jean seam placement.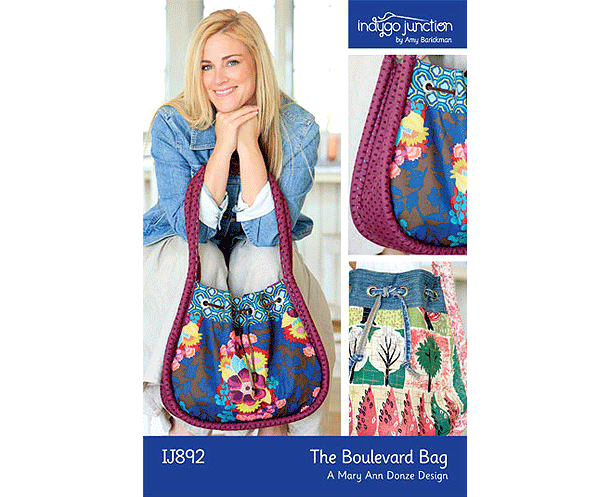 If you don't have much denim to work with, just use it as an accent. For example, on our Boulevard Bag, we use denim along with other fabrics. The denim band on this bag is a perfect compliment to vintage retro bark cloth.
Combining vintage images and denim.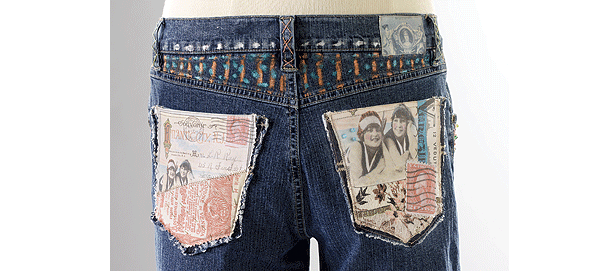 In addition to using denim as a source material, it's also great to take denim clothing that you've picked up along the way and make them your own using your individual creative touches. A book that might inspire you is our Art to Wear. One of the favorite projects in the book is the denim jeans decorated with vintage imagery; details like pockets with raw edge and seam allowances exposed that are then embellished with images printed to fabric sheets. The possibilities are just endless! If using vintage artwork to embellish clothing excites you, don't forget you can find almost any type of image you want over at our digital image marketplace, TheVintageWorkshop.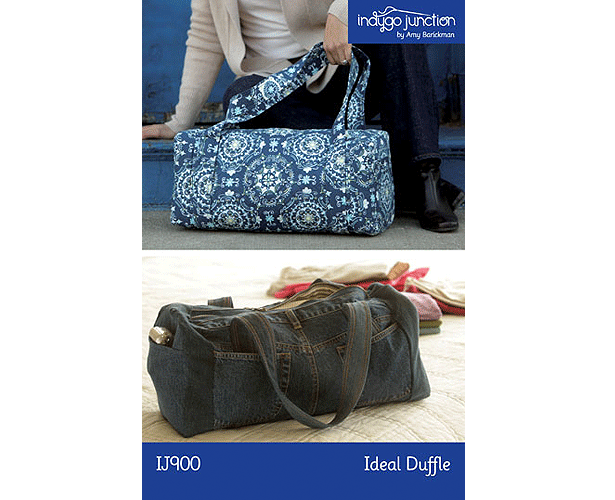 Finally, in one of our latest pattern releases, The Denim Duffle, you'll find a classic ticking-lined design that is perfect for a deconstructed jeans project. The zipper closure just "fits" with the jeans while pockets provide welcome storage.
I know that so many of you have done fantastic things with denim. If you'd share with all of use some of your ideas, techniques and projects, I'll draw from the comments and give-a-way a Denim Redesign book and our two most recent denim patterns, The Classic Duffle and The Boulevard Bag!
As always, thank you for letting me share.
~ Amy
Amy Barickman is the founder and owner of Indygo Junction, The Vintage Workshop and AmyBarckman.com. She is a leader in the sewing, needle arts and retail crafting industry having sold more than two-million sewing patterns and published 80 books sold throughout the world. Her recent endeavor is the book "Amy Barickman's Vintage Notions: An Inspirational Guide to Needlework, Cooking, Sewing, Fashion and Fun", is already on its third printing since its release in September of 2010. Other best-selling titles include: "Indygo Junction's Button Ware" and, most recently, "Hankie Style".
Please note: If selected as a winner, any personal information you provide to receive your prize in this giveaway is subject to the sponsor's privacy rules. These may differ from BurdaStyle's rules, so please review the rules before entering your information. BurdaStyle is not responsible for the handling of your data in connection with this giveaway.