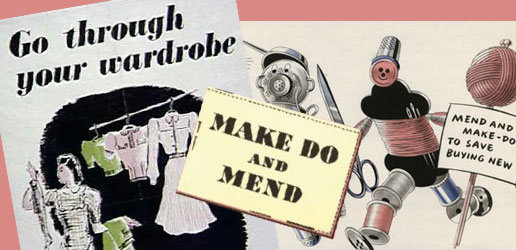 ShareThis
Refashioning and recycling old clothes has been done for years, but now with a recession looming and eco-chic taking centre stage, we can start to rejoice in the wartime "Make do and mend" lessons our grandmothers learned. Recycling old clothes doesn't have to be boring, though – a lot of times the resulting garment is even better than the starting one! If you get even one more wear out of it than it counts as a win for the planet and your wallet.
As I mentioned last week, this is the time of year that I assess my wardrobe for the upcoming season, taking note of what I need, and pulling out the clothes I no longer wear or have worn out. These clothes usually just go to the charity shop, but this year I'm going to take an extra step of sifting through them to see what can be refashioned into something new!
In the past I've made recycled creations like a dress from an old duvet cover, a beach coverup from a towel, and (famously) a dress from a shower curtain, but I also got some great inspiration from other members who've made barrettes from zippers (perfect if you're using rest of the trousers for something else!), a skirt from Oxford shirts, and a Franzi vest from two skirts! If you stop looking at old clothes as worn out or out of fashion and start looking at them as pieces of fabric with potential, then whole new refashioning worlds start to emerge, especially if you can join a few together.
Right here on BurdaStyle there's a huge amount of free and open source patterns to use that would be perfect for recycling smaller pieces of fabric from old clothes. I'm thinking…
If you're inspired to recycle, please tag your creation with "recycled" and I'll do a roundup post in a few weeks. Start digging!