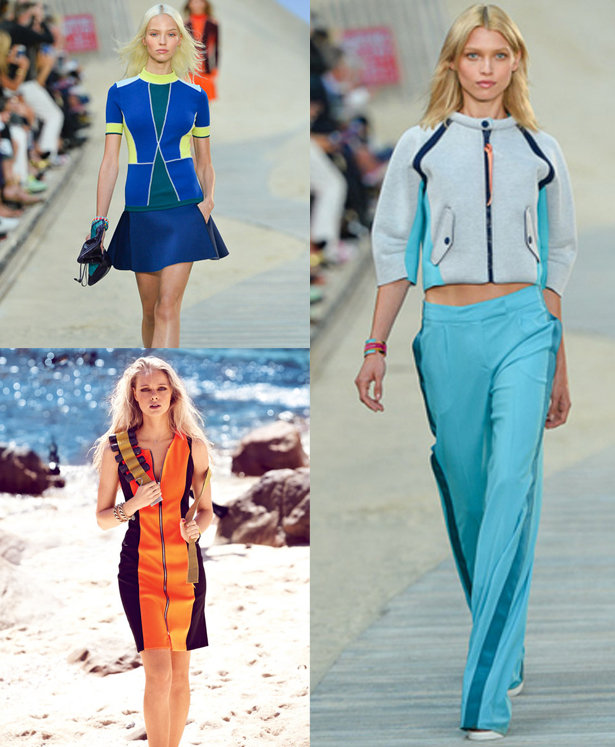 ShareThis
Today, we're taking a look at Tommy Hilfiger's sporty Spring 2014 collection.
Tommy Hilfiger's ready-to-wear show had a decidedly different vibe from the other collections we've seen so far. Instead of soft dresses, sheer fabrics, or stark black and white, his show featured bright sportswear. Hilfiger has always been an American brand, which can be seen here in basketball jersey dresses, varsity jackets, and other athletic-inspired shapes. These pieces would definitely inject a little lighthearted, sporty fun into my largely feminine wardrobe.
This collection immediately reminded me of our Surfer Girl patterns. Fabrics with lots of body, like neoprene, double jersey, and leather, are going to be popular next spring. The Zipper Dress captures this athletic trend perfectly, complete with exposed zip. Try the jersey Panel Dress for a softer style.
You could also get Hilfiger's sporty look with the Colorblock Pullover and tailored slacks, like the low-slung Editorial Pants. I love my boxy sweaters, but never think to pair them with silk slacks. That's why I love fashion week!
For a slimmer look, try the Zip Up Tank or wetsuit inspired tee shirt.
My favorite part of this show was the color. If sportswear isn't your style, simply steal inspiration from the peppy color palette of orange, aqua, maroon, and cobalt. A colorblocked top in these colors, like the plus size Two Tone Tunic, would be gorgeous!
Happy sewing,
Mandie