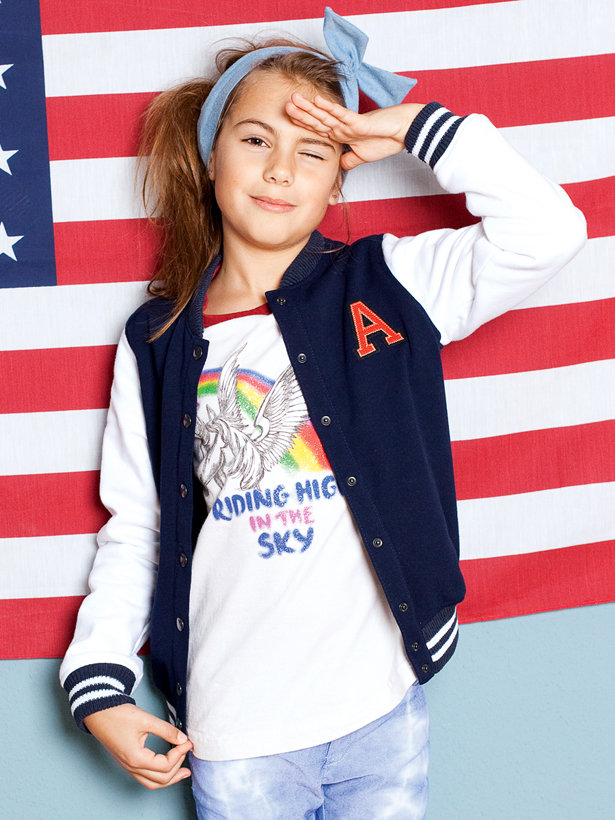 ShareThis
This new pattern collection from burda style magazine's March 2013 issue will make you ready to rock! From Bruce Springsteen to Lana del Rey. Cowboy jeans, raglan shirts and baseball jackets are always in style, but we've spiced up the college look with some fabulous details.
Here's a really cool Denim Waistcoat with high patch pockets. The use of two different denim fabrics makes it unique. Underneath, we have a Mini-Dress that is in a class of its own. It has a pretty extra detail – the neck halter is first braided and then sewn in place. Fabric drawstrings at the side seams give a gathered effect.
These Jeans are red, and trendy fitting with a five-pocket style. The stretch gabardine means the kids still have ample freedom of movement to play!
This Top is just great for looking cool in warm weather, with the holes in the back and raglan sleeves letting in lots of air. The strips of jersey are knotted together, to make a fun lattice design.
Sometimes boys don't say much, but with this Shirt their message still gets across – with an ironed-on transfer. The blue and white color contrast makes this raglan shirt really stand out.
This Jacket is already the latest thing for school girls, in blouson style with its typical striped, knitted waistband. And it looks super cool worn with these casual Pants that are dyed to your favorite color!
This Denim Shirt will be a long-time favorite because it's loose fitting and long at the back. On the shoulder yoke and front pocket, print fabric adds a little variety.
Happy Sewing!