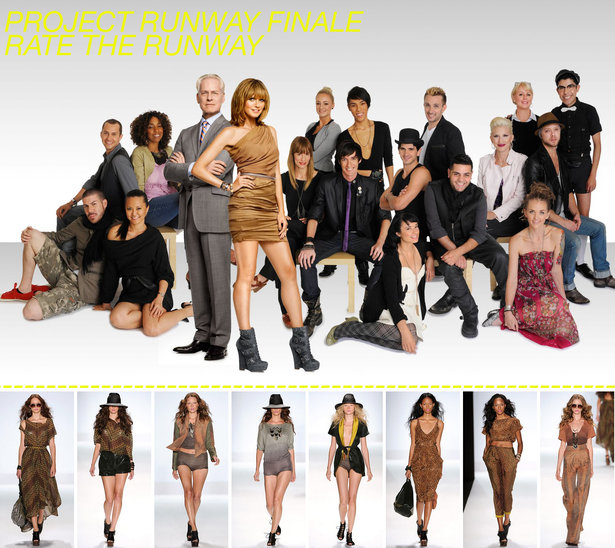 ShareThis
Been keeping up with Project Runway Season 8? Discuss here!
I can't believe Project Runway has reached it's 8th season! I have to confess, since the show moved to Lifetime I have not been following very closely (I don't have a TV) but I did check out the finale collections. This time, ten Project Runway Season 8 designers showcased their collections at Mercedes-Benz Fashion Week on September 9, 2010. Each finale designer showed a 10-piece collection at the new destination of fashion week NYC: Lincoln Center. Here are some highlights from the show. What do you think of the outcome?



Michael Drummond's metallic textiles and filmy noir pieces are pretty and somewhat mysterious, I feel handiwork put into them. They are edgy and look stiff but are probably soft and malleable.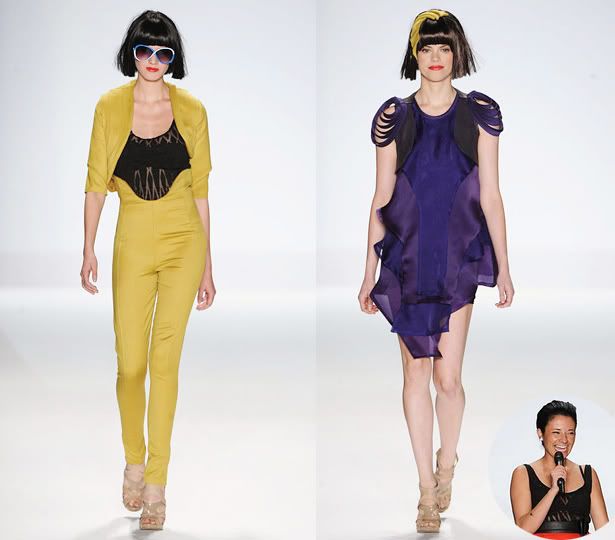 Valerie Mayen's vivid, neon looks were sharply sculpted and reminded me of some of the hot up-and-comers coming out of London like Carlos Miele.



Christopher Collins used filmy metallics too— the a-symmetric curves, dips and drapes of his collection make the clothes look as if they were sculpted on in metallic porcelain.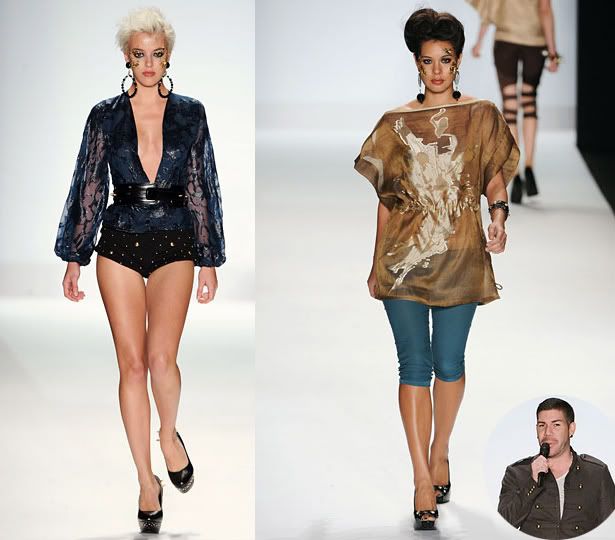 Casanova is one of the many finalists who, like Peter Som, used barely there peekaboo panties as part of an ensemble. What do you think of this look? Is it saleable? Sexy? Functional?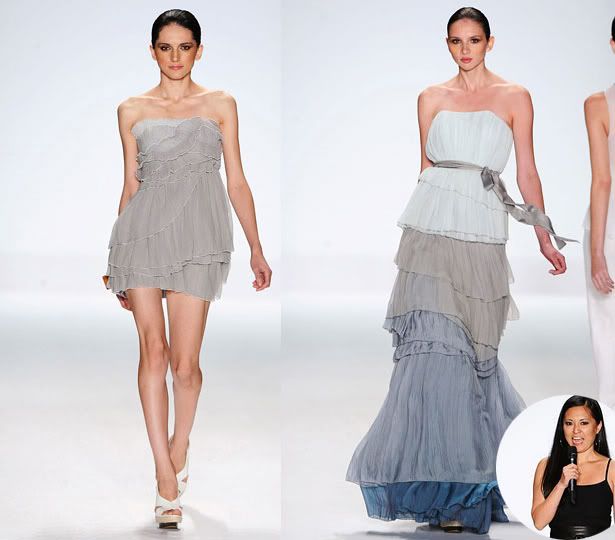 Ivy Higa stuck to monotones of greys, whites and yellows. The more whimsical of the finalists, her use of mushroom pleated chiffon is ethereal and daring— it's hard to get that fabric to behave.



Michael Costello used the colors of an ancient bronze statue— rust, copper, teal, aqua and turquoise. His draped sculptural dresses look like liquid gold.



Gretchen Jones, the season 8 winner of Project Runway used subtle animal printed silks in browns with accents of neon yellow. Was this your favorite collection?



Mondo's collection seems to jump off of the page in comparison to the more muted color palates of the other designers. The use of over-sized polka dots is graphic and fun— like Jeremy Scott or Sonia Rykiel.

April Johnston's collection reminds me of the dusk-colored outfits Daryl Hannah wears in Blade Runner— the pieces look like delicate ethereal silky bandages.



Andy South stuck to monotones of silvery greys accented with a loud pop of acid green and constellation-like headgear. He also used the peekaboo panties in some of his looks— some women are actually wearing them in public!