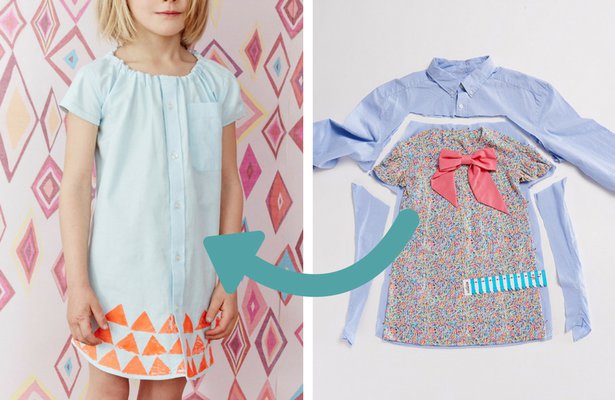 ShareThis
What to do with old men's shirts? Throw away? Too bad! If the fabric is not just full of stains or moth holes, it can be sewn into a sweet-and-sweet girl's dress. This sewing project is super-easy and ideal for men's shirts that are no longer appealing, too big or too small, where the sleeves have holes or stains – these are cut away and not recycled. We've also decorated the dress with a potato print.

+ Men's shirt
+ Children's dress in desired size
+ Tape measure
+ Pins
+ Scissors
+ Paint brush
+ Thread
+ Elastic
+ Safety pin
+ Knife
+ Potato
+ Cardboard



Spread the men's shirt flat and put the front center of the children's dress on the front center of the shirt.



Cut out with a seam allowance of 2 cm.



Cut 4 cm more at the neck hole (here is the elastic band later).



Put the shoulder and side seams of the front and back together right to right.



Sew and then serge-finished together.



Turn the dress on the right side and iron both hemlines 2 times 1 cm each and fix.



Topstitch sleeve sleeves with a short edge.



Then iron neckline only 1 cm.



Iron another 2 cm, and pin. Stitch close to the pressed edge, leaving 4 cm opening.



Pull in elastic (approx. 40 cm) with safety pin.



Then stitch ends of elastic together, and topstitch opening on dress to close.



Halve the potato and cut a triangle with your knife.



Brush with textile paint…



…and stamp on shirt. Use cardboard as a base.



Try using the potato printing technique on other handmade garments as well to make them extra custom and cute! Jazz up a teen tank using our Sleeveless Shirt or go free style and splatter textile paint using our Girl's T-Shirt Dress.