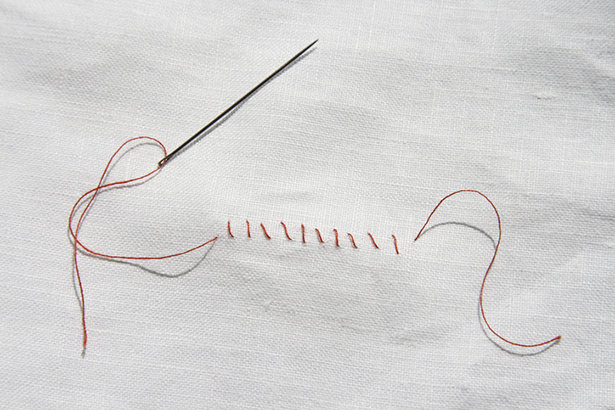 ShareThis
A little time-consuming and labor-intensive, but quite precise: When copying with thread, seamlines are "marked" and also is a fabulous alternative when when traditional copying is not possible.

FOR BEGINNERS:
Hand sew along the edge of the paper pattern piece, through both fabric layers, using running stitch and two strands of thread. After every second stitch, leave a loop, approx. 2 cm (¾") high. Along straight edges, the stitches can be fairly long; along curved edges they should be shorter. To transfer the lines and markings on the pattern piece, sew running stitches through the paper and both fabric layers, leaving a loop, approx. 2 cm (¾") high, after every stitch (!). On fabric pieces which are entirely backed by interfacing, thread trace lines after the interfacing have been adhered…
…After all lines have been thread traced, cut open the centers of the thread loops of those lines which were stitched through the paper, then carefully remove the pattern piece. Carefully pull the fabric.



FOR PROS:
Sewers with little time and those with more experience will not transfer all seam lines and markings onto the fabric. Instead, they will only mark the beginning and/or end of a seam or they will make small clips in the fabric, within the seam allowance. To do this, all seam allowances must be exactly the same width. The dart points and other markings on the pattern piece, such as the centre front, fold lines, pocket openings, etc. can be marked with dots of chalk. To do this, first insert a straight pin in each marking. At ends of markings, insert two pins, which form a cross…
…Press the heads of the straight pins through the paper pattern piece and remove the pattern piece. Now use tailor's chalk to mark the insertion points and intersection points of the straight pins on both layers of fabric.
How do you trace your pattern lines?