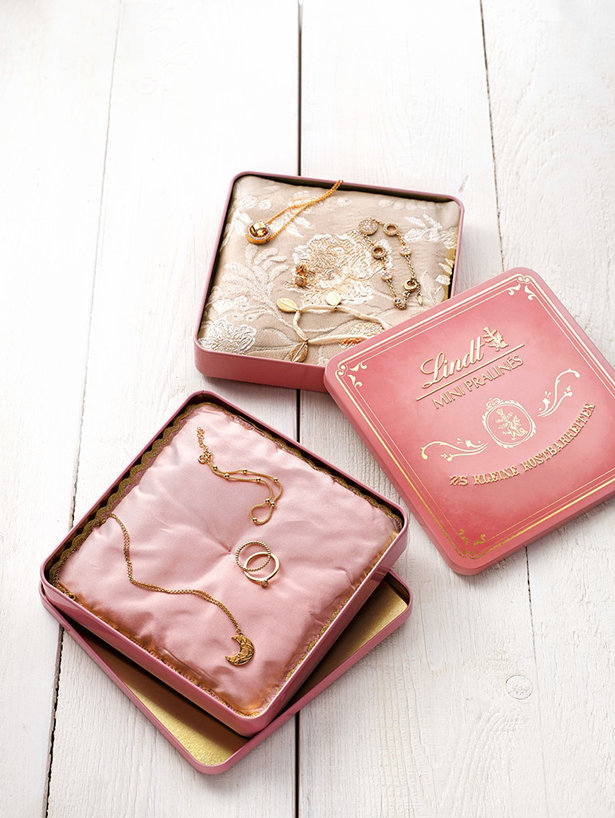 ShareThis
Our favorite jewelry deserves only the best! A decorative tin with ultra-soft pillow (which, by the way, also makes a good gift box). Makes the perfect Valentine's Day gift! Don't throw away those cute little tins you get, read on to see how they can be transformed…

MATERIALS:
+ Nostalgia tin
+ Satin fabric
+ Fleece
+ Thread
+ Scissors
+ Pins
+ Hand sewing needle
+ Rippled wire in gold
+ Paper
+ Pencil



Step 1: Remove the lid of the box and transfer the contour to the paper with the pencil.
Step 2: Cut stencil 2 times from fabric with 1 cm seam allowance each.



Step 3: For a piece of cut on the right side of the fabric, attach the rickrack all the way around (so that the middle of the ribbon meets the 1 cm line).
Step 4: Then stitch the rickrack all around at 1 cm.



Step 5: Sew on the second cut piece (right to right) all around at 1 cm (on the stitching of the rickrack). Let the opening turn.
Step 6: Cut back the seam allowance to 2 mm and turn the pillowcase. Cut the fleece without seam allowance and insert.



Step 7: Close the opening of the pillow with the hand needle.
Step 8: Finally, mark the middle of the pillow and sew it in the middle with a few hand stitches.



Finished! These little boxes make a perfect holding place for your Valentine's jewellery, whether you are receiving some or giving some to that special someone.