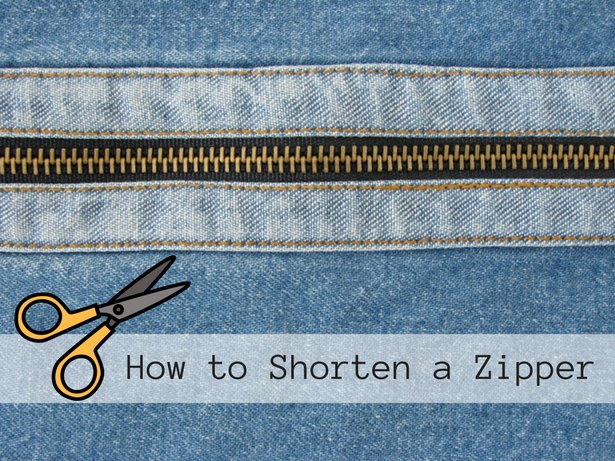 ShareThis
Separating zippers are available in lengths of 30 cm, 35 cm, 40 cm, etc., up to 80 cm (12, 14, 16, etc.up to 32 ins), i.e. in increments of 5 cm (2 ins). If you need a different length, purchase the next longest zipper to your zipper edge or opening and shorten it as follows:
Measure the edges of the garment from the beginning to the end of the zipper slit. Measure the same length on the zipper, beginning at the lower end. Mark the desired length on the zipper tapes.

For metal zippers carefully pry the stoppers open above the zipper teeth. Remove the stoppers and set them aside. Use pliers to remove the unneeded teeth, down to 5 mm (3/16 in) below the marking on the zipper tape. Then reattach the metal stoppers to zipper tapes and press firmly to secure.

For plastic zippers use pliers to remove the stoppers at the top of the zipper and also remove the unneeded teeth.



To prevent the slider from slipping off, sew bars of thick thread across the top ends of the zipper tapes. Very fine plastic zips have a coil instead of teeth. The upper end of such a zip should be trimmed to the required length plus 2 cm (3/4 in). The upper ends can then either be caught in the seam or turned down diagonally.



Pin pocket pieces to trouser fronts, right sides facing, match­ing marked lines. Stitch pocket pieces in place as marked. Cut between lines of stitching, up to to 1 cm (⅜ in) before ends, then clip diagonally into corners, thereby forming small fabric triangles. Turn pocket pieces to inside. Press pocket opening edges.



Baste metal zips under edges – zips open from top to bottom. Stitch zips in place, using a zipper foot.



Pin remaining pocket pieces to ­attached pocket pieces, right s­ides facing. Stitch edges together.



Try shortening a zipper and sewing it into a pocket using our Pencil Trousers!