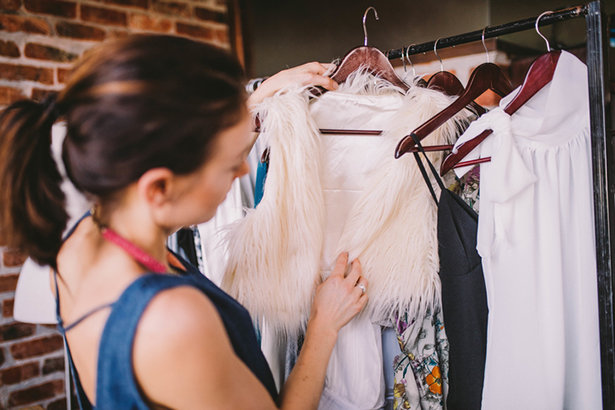 ShareThis
It's soft and cuddly and not at all difficult to sew. Here are our best tips for cutting and sewing fake fur…

To cut fake fur with a long pile, use a razor blade instead of scissors. Cut only the base fabric – the pile fibers are not cut, which results in less fuzz. To make it easier to hold the razor blade, cut a lengthwise slit in a cork and insert the razor blade in the slit.
Pin the paper pattern pieces to the wrong side of the fabric. Mark the seam and hem allowances on the fabric, along the edges of the pattern pieces. It is not possible to use a tracing wheel on fake fur. Instead, draw all pattern outlines with a soft pencil. Now, working from the wrong side and using the razor blade, cut only the base fabric and not the pile fibers. If interfacing is required, remember that fusible inter-facing can only be used on fake fur with a short pile. On fabrics with a long pile, use a non-fusible interfacing such as Vilene L 11. Baste this interfacing to the wrong sides of the fabric pieces.



You can also use a utility knife like this one.



When sewing, stitch with the nap whenever possible. Pile fibers which have been caught in the seam must be carefully pulled out of the seam, with the help of a straight pin.
Instead of basting pieces together, pin them together. You can then use a long darning needle to push the pile fibers between the fabric layers while you stitch, to prevent the fibers from being caught in the seam. Press only from the wrong side of the fabric and with only slight pressure. When pressing, lay a scrap of the fabric, pile side up, on the ironing surface, to prevent the pile from being pressed flat.
Now try on the following faux fur patterns:



Fur Shrug; Red Faux Fur Coat; Fur Shrug

Don't have enough faux fur for a garment? Try sewing one one of these headbands to practice your faux fur sewing skill on.
Need some faux fur fabric suggestions? Check out the ones below to get the look of the BurdaStyle patterns:



Minky Luxe Cuddle Fawn, Cappuccino; Minky Luxe Cuddle Galaxy Merlot Fabric; Minky Luxe Cuddle Galaxy Oatmeal

Happy Faux Fur Sewing!