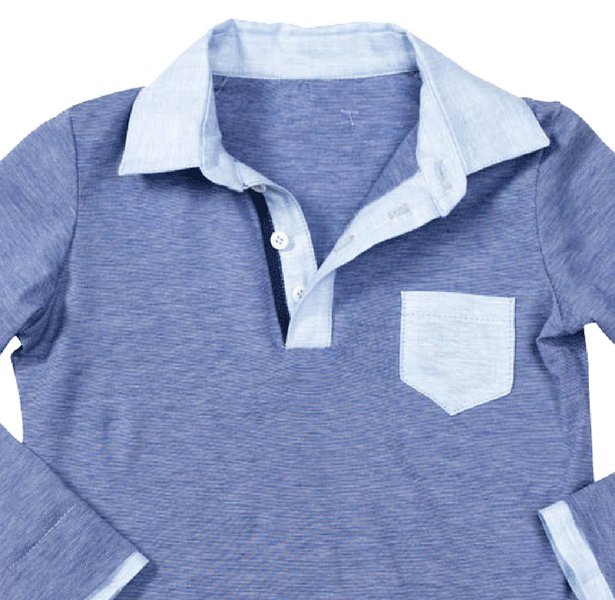 ShareThis
If a blouse or a dress does not have a button closure all the way down to the hem, a polo closure is often incorporated to get in and out of the garment with ease (and not messing up your hair)! There are different types of polo closures, they can be sewn with two panels and also with a fabric strip or trimmings. We'll show you how to sew a polo placket closure each way…

First of all, the front part has to be cut at the end close to the corners. In this case, a tearing of the snips can be avoided by a piece of fused interfacing. Half of the panels are reinforced with additional interfacing. The plackets are then sewn with an insert on the sides of the front panel stopping at seam lines at corners. Important: The seam start and the seam end are secured by backstitching.



Next, the bottom seams of the front part must be cut into the corners obliquely up to the last stitch.



Then press the allowances of the panel attachment seams toward the panels and the outside seam allowances are also to be pressed to the wrong side.



Fold and press the panels in half widthwise and cover the attachment seams with the outside pressed seam allowance. You can secure by hand basting first and then topstitching, or simply pinning in place first. Topstitch on each side.



If you want button and button holes in your polo closure now is the time to install buttonhole on the right panel.



The right panel is centered on the left panel, and the lower edges are basted together within the seam allowance. Tuck in the bottom edge inside the garment and flip in place so that bottom edge of opening aligns with panel edges. Sew from corner to corner carefully and give a nice press from both the right and wrong sides. The bottom edge can now also be finished with a serge or zig-zag stitch.



Now the buttons are sewn into place!



If you are still working on your kid's back to school clothes this Polo Shirt is the perfect pattern to practice this technique on.



In order not to sew the lower end of the closure in the case of thick fabrics, the lower edge edges are not inserted but staked up.



On the overlapping panel the bottom edges are sewn, right sides together and flipped to the right side and topstitched. The other panel's bottom edge is prepared as described above for the classic polo closure.



Now the unfinished panel is tucked inside the garment and bottom placket opening flap and basted in place.



If you have a collar that doesn't go right to the end of the closure, and instead in the middle, finish the top edge of the panels as illustrated above.



Try this technique to make our Boucle Dress pattern and fray the edges a little bit for extra detail! And for this style you don't even need to insert buttons and buttonholes.