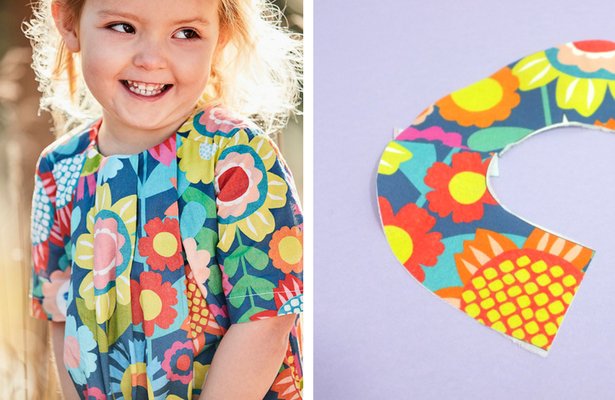 ShareThis
Neck facings are one of the easiest (and neatest) ways to finish a neckline edge. But what if a zipper is involved? Things can get messy and complicated. Read on to see a quick and easy way of installing a neckline facing with invisible zipper…

The first thing to do is sew in your invisible zipper (click here to see how) and then sew your shoulder seams. It is best to first serge- or zig zag-finish your shoulder edges and then press your shoulder seam allowances open to reduce bulk.



Neck is to prepare your neckline facing. Fuse interfacing to the wrong side and then sew your facing's shoulder seams and press open. You do not need to serge- or zig zag-finish the shoulder seam edges since the interfacing will prevent fraying and the seam will not be visible even from the inside of your garment. But what you can do is serge- or zig zag-finish the outer curved edge to create an aesthetic finish.



Push back out the zipper seam allowance so it is flat and press back the excess facing allowance. In this case, this is the center back edge.



Then take the center back edge (with zipper sewn) and flip it once the cover the facing's pressed edge and pin in place. Note, the invisible zipper stitching will now be exactly at the center back edge. Start sewing the neck facing to the neckline edge directly above the zipper stop where the black arrow is.



Once stitched, see black arrow, trim down and clip into the neckline seam allowance.



Flip the neck facing away from the garment, with the trimmed seam allowance towards the facing, and under-stitch to the facing about 1/8" away from the seam. Note, you will not be able to get right into the corners where the zipper is, so just under-stitch as far as you can go.



Use a point turned to poke at the facing corners to make them nice and then pin the pressed facing edges to the zipper and hand stitch in place.



This is the last step to complete this pattern which is a BurdaStyle + Sprout pattern! That means that you can get the pattern lines directly printed on the fabric. Design your own here, and it is our Girl's Pleated A-Line Dress pattern.