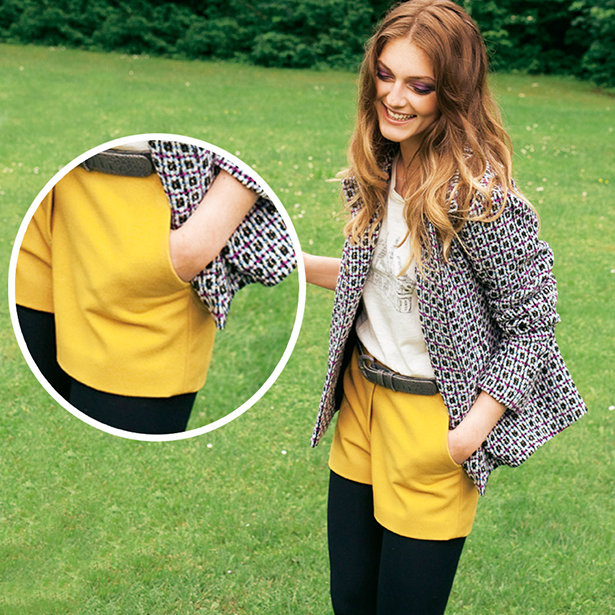 ShareThis
Pockets are not only functional, but also a fashionable detail and should be sewn quite carefully. There are patch pockets, inseam pockets, pouch pockets, hip pockets, flap pockets and more! Read on to see how we show you in simple steps how to sew a hip pocket for either pants or a skirt.
Pictured above: Wool Shorts pattern

Step 1: Place the pocket pouch pieces, right sides together with the shorts front and stitch together. Trim the allowances to approx. 1/4" and flip the pocket pouch to the wrong side. If your pattern design has a fly front zipper (often found on pants and shorts) then transfer the fly front lines with long hand basting stitches.



Step 2: Grab your pocket backing and align with the shorts pocket line and pouch pouch round outer edges.
If the pocket is slightly wider than the zipper markings: This extra length is actually necessary so that the pocket is not stretched during wear and must not be cut away. Align with the waistline and pin into place, the excess that extends into the extension will be trimmed afterwards.



Step 3: Pull away the top shorts layer and stitch together the pocket pouch pieces along the curve.



Step 4: At this point you can neaten the lower edge of the pockets ouch with a serge or zig zag-finish. Baste the pocket to the side seam as well as the waistline edge either by hand or machine.



Step 5: For trousers, shorts and skirts with a zipper in the front center, the hip-fit ​​on the left front part can be trimmed to 1/4" past the center front line.



Step 6: … on the right front part trim the excess right to the center front.


TIP
For thick fabrics, cut the pouch from a lining fabric. Particularly durable is actually a cotton pocket fabric.

Try out this technique using these patterns:



Cigarette Pants; Denim Mini Skirt'
Happy Sewing!