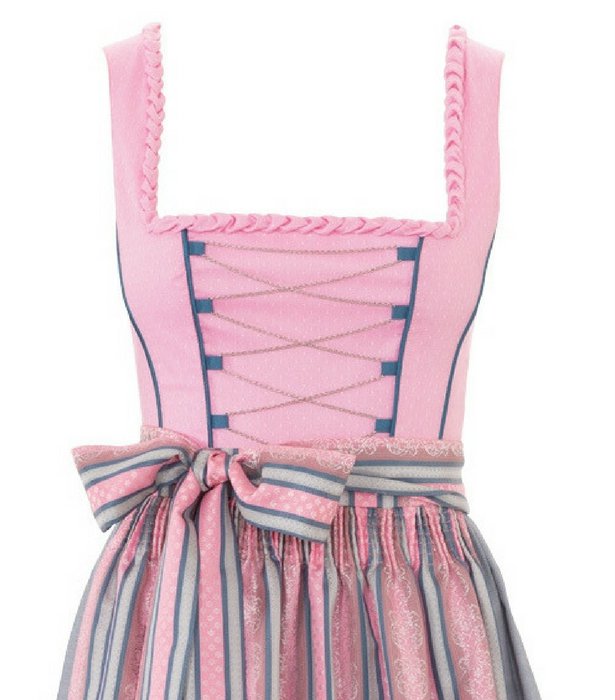 ShareThis
This ruffle is well known to Dirndls – the heart ruffle. It is often used for decorating the neckline, but is also suitable for the decoration of costume accessories such as heart pockets or bags. Here we show how the heart ruffles are sewn just in time for Oktoberfest!

For the heart ruffles, a dot is marked alternately at the edges on the back of the fabric and exactly in the center. The distance between these points is equal to half the width.



Begin with sewing at the middle point and first secure with a few backstitches. Then, the outer top points are sewn one after the other and the hand sewing needle is brought back down to the center point and secured again. Tighten the thread to bring all the point together and again a little backstitch made, and the thread must not have tension. Subsequently, the two points are pricked again, and so the procedure is repeated until sufficient band has been created by the heart ruffle.



The process continues until the desired length of the heart ruffles for the traditional costume has been produced.



The 1.5-fold length of the tape is required for cardiac ruffles. It can now be applied to the neckline or hemline.



You can find this type of ruffle decorating the neckline of this Dirndl pattern from the 09/2016 issue which published an awesome entire Dirndl pattern collection.



Our other favorite Dirndl sewing patterns include this designer Dirndl pattern that has a beautiful roll over neckline finished with ruffles as well as our Gypsy Dirndl sewing pattern. Make one of these for Oktoberfest or even Halloween!



We also offer beautiful plus size Dirndl patterns! Our favorites include this one with rose appliqué and this pretty in pink one.


Happy Oktoberfest!