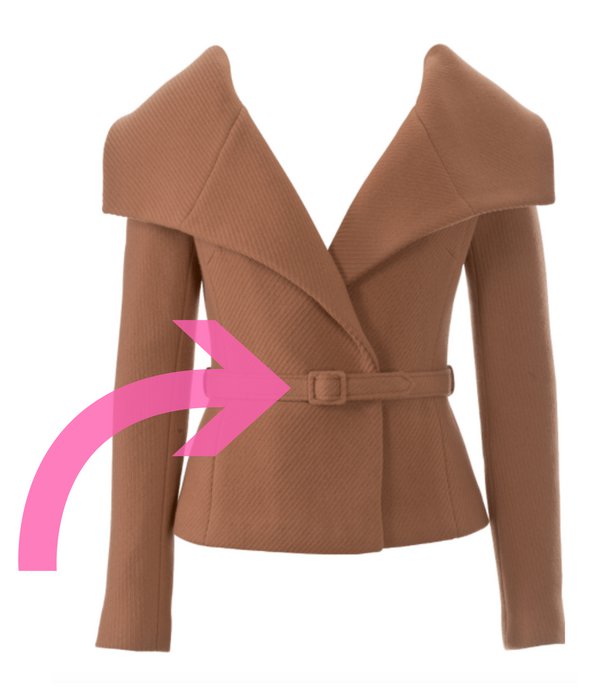 ShareThis
A matching belt to your handmade garments is always a great choice and makes your outfit look extra professional and your waist cinched. Sewing your own belts is actually quite simple (and satisfying) and can be done a couple of different ways. Read on to see how you can add a belt to finished off your next project…

We love belts on jackets and blazer as they can sometimes look unfitted and oversized, adding a belt is a perfect way to add definition and no one will guess that you made it yourself! Belt end shapes can come is various shapes and sizes, everything from round to squared. The following way of sewing a belt is best suited for thicker jacket and blazer type fabrics.

The first step is to interface BOTH waistband pieces, for this way there are two separate pieces one for the inner belt and one for the outer. All the seam allowance edges are pressed towards the wrong side and pinned wrong sides together and then topstitched.



Depending on your belt end shape you will need to press the edges differently. For a shaped style make little pleats at the corners that are only visible from the wrong side.



For pointed belt shapes clip at the point and press as pictured. You can also hand baste the seam allowances to the wrong side as well.



To achieve a nice rounded shape without "little points" first do a gathering stitch along the curve and slightly pull in the ends until a nice round shape is formed.



So this process is done both to the inner and outer waistband then the belt pieces are placed WRONG sides together with the pressed edges perfectly matching. Pin in place and topstitch close to the pressed outer edges, about 1/8". TIP: Topstitch with the outer waistband facing up towards you on your machine, the top thread always looks a little better than the bobbin stitch.



For belts on dresses and blouses that have lighter weight fabric this method is better and there is no visible topstitching!



Cut a fabric strip double the belt width plus seam allowance from your fabric. Depending on your fabric you can choose to leave your belt un-interfaced or not. Then the belt is folded and stitched RIGHT sides together leaving one end open



Next the belt is folded and pressed so that the seam is exactly in the center of the belt.



At one end, the narrow edges of the desired belt shape are now sewn one on top of the other. Then the seam allowances are trimmed or cut, according to the shape of the belt ends.



Afterwards the belt is turned to the right side. TIP: Use a wooden spoon to help! Then give the belt a good press.



If desired a piece of cut shaped interfacing can be inserted into the belt end for extra stability, or if you use double sided interfacing it will close the belt end for fabric that doesn't fray. Or the end could be pressed to the inner waistband and topstitched in place.
Thread through your buckle and you are good to go! You can purchase buckle kits that allow you to cover the buckle with your fabric for a completely matching belt.