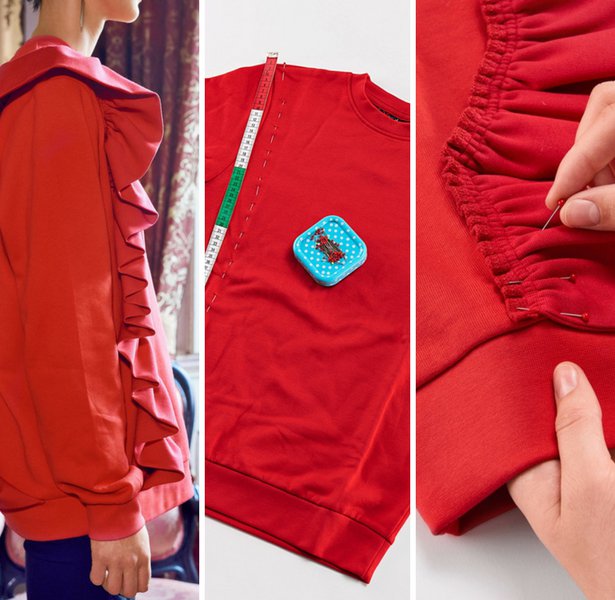 ShareThis
How does a masculine sweatshirt become a trendy feminine garment? By adding this detail… Turn a classic man's sweatshirt into an oversize 'It' top with decorative ruffles.

Worn chic, with a skirt, or casually, with jeans – this top will put you in the fashion focal point.



+ Jersey fabric
+ Sweatshirt
+ Quilter's ruler
+ Tape measure
+ Chalk pencil
+ Corner and edge shaper
+ Scissors
+ Straight pins
+ Ruler
+ Sewing thread



On sweatshirt front and back, insert pins approx. 15 cm (6") from side seam and across centre of shoulder seam. Measure total length (here approx. 132 cm/ 52")



With chalk pencil, draw ruffle strip on jersey fabric, approx. 266 × 20 cm (105″ × 8″).



Cut ruffle piece. If needed, cut two pieces, each 134 × 20 cm (53″ × 8″), and join with a shoulder seam.



Fold ruffle piece in half lengthwise. Stitch ends closed, with 1 cm (3/8") wide seam allowances. Trim seam allowances diagonally across corners.



Turn ruffle right side out. Shape corners with the help of the corner and edge shaper. Press the ruffle.



Finish open edges together, with serger or with overlock stitch. Then machine baste (stitch length 5) gathering stitches, 0.5 and 0.7 cm (3/16" and 1/4") from this edge.



Gather ruffle evenly along gathering stitches, to match measured length of sweatshirt. Knot gathering threads.



Now pin ruffle to sweatshirt, along pinned line, right sides facing.



Stitch 1 cm (3/8") from gathered edge of ruffle, to attach. Remove gathering threads.



Make this entire ruffled sweatshirt from scratch and use this sweatshirt pattern, and for another unique look try only added one ruffle on the opposite side to the pleats!



Need some sewing tools to help you sew this ruffle fashion sweatshirt? This sewing kit is now avaliable at ShopSewItAll.com! Also makes a fabulous gift for a friend that is just getting into sewing…