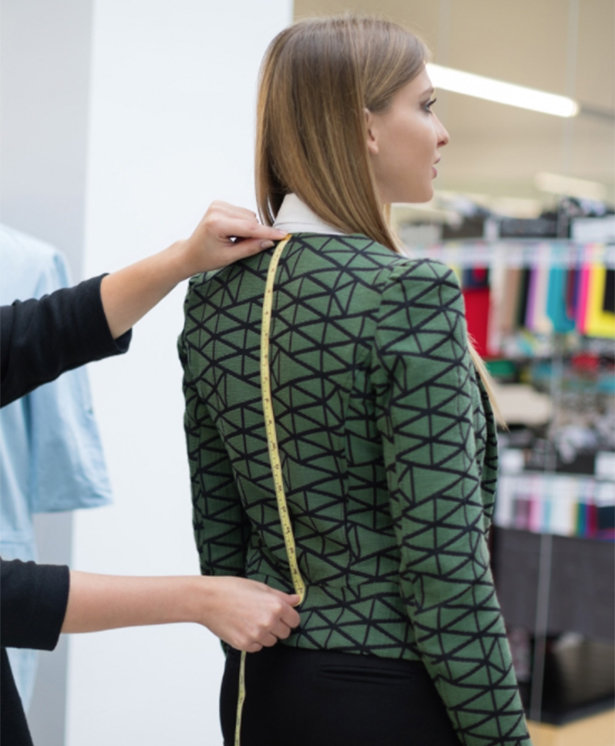 ShareThis
If you have a more rounded back and the garments that you make pull at the back you may need to do round back adjustment on your bodice sewing patterns! Read more to see two different adjustments you can do if your bodice pattern already has a shoulder dart or not…

For cuts with shoulder darts, draw a horizontal slash line into the pattern so that it passes through the dart tip. In addition, draw a line that passes through the dart tip going from center back into the armhole and this line should be parallel to the center back. Cut the pattern down the center of the dart to the dart tip and cut the horizontal line from the center back to the armhole.



Tape additional paper underneath your pattern and spread your dart apart 1 cm – 1.5 cm.



At the armhole underlap upper slash line section 0.5 cm. Due to the change in the cut the dart is slightly deeper, but it is sewn normally. Also spread slash line apart at center back 1 cm – 1.5 cm.



Don't already have a shoulder dart? At the front, the pattern fits perfectly, but behind the back pulls?
Here you have to adjust the back center length – the armhole should not be longer, but rather should be somewhat shorter. For adjustments without darts, draw a horizontal line about 8 cm below the neckline and a vertical line, approx. 3 – 4 cm from the neckline as pictured.



Now cut the lines apart from one another. From the back center to the vertical slash line, add 1 cm – 1.5 cm in length. At the armhole edge lay the top section line 0.5 cm overlapping the bottom one. Now a dart is created on the shoulder line! For patterns with seams, lay the panels together, draw a line over both parts, 8 cm below the neck cut, and cut them apart. At the middle back, apply evenly 1 cm – 1.5 cm. On the lateral part, add 1 cm – 1.5 cm at the edge of the panel seams and the cutting edges are 0.5 cm above each other.


Happy Adjusting!
Want to make a set of patterns based off YOUR measurements? Join us in our Draft and Sew Your Own Personal Sloper Collection Course here!